A Different Kind of Hospitality Management- International Students of the 2017 Spring Semester in BHI
On February 28th 2017, exchange students from Cheongju University in South Korea arrived in Beijing, starting their semester-long learning and cultural experiences in BHI.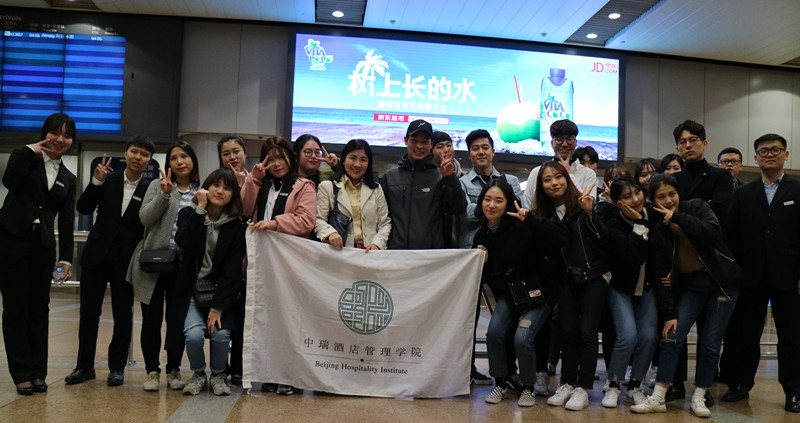 Picture of Arrival
Birthday Surprises
An opening ceremony and a campus etiquette training were held for the international students before the courses begin. On the opening ceremony, Dr. Gao Songtao, President of BHI delivered a speech that says: " Actually, we are already friends because we have met each other when I was visiting Cheongju University. How do you feel like the room and food BHI serves you?" The international students all expressed: "what an amiable headmaster!"
Dr. Gao Made the Speech on the Opening Ceremony
The International Students Were Very Interested in the Campus Etiquette Training
After the ceremony, the international students had their language proficiency test, which were divided into the written part and the oral part.
The International Students Took the Exam Seriously
A welcome dinner was held for the international students that night, and President Gao joined them for dinner.
Dr. Gao and International Students at Dinner
In BHI Training Hotel
In addition to the intense study, a variety of cultural experiencing activities and hotel visits were also planed for the international students.
On April 12th, teachers from the International Exchange Center led the international students to visit the Ritz-Carlton Hotel, the Westin Hotel and the Crowne Plaza.
Hotel Intern from the Ritz-Carlton making introductions for the international students
The BHI students who had their internship in Ritz-Carlton showed the international students around the hotel, in which the retro environment impressed them a lot.
Visiting the Ritz-Carlton Hotel
Visiting the Westin Hotel
These magnificent hotels and their humanized environment appealed to the international students. They decided to study harder in the later classes.
Last but not least, the cultural experiencing courses that BHI provides to the international students have to be mentioned.
The Tai Chi Class
The Martial Arts Class
The Tai Chi class and the martial arts class enjoyed great popularity among the international students. They took pictures with the traditional Chinese clothes and weapons.
At the end of the courses, the international students will take part in the interviews before experiencing the job in the hotels.
We wish them all the best and hope their dreams come true.
Translated by Tammy HU