BHI Cooperates with Universal Beijing Resort to Build Internship and Career Platform for Students
Lately, as the biggest talent export partner of Universal Beijing Resort, BHI was invited to visit it again and exchange views on further cooperation between the two sides. Universal Beijing Global Resort, which is highly concerned by the public, has now entered a critical period to its opening with its all preparatory work progressing steadily as planned.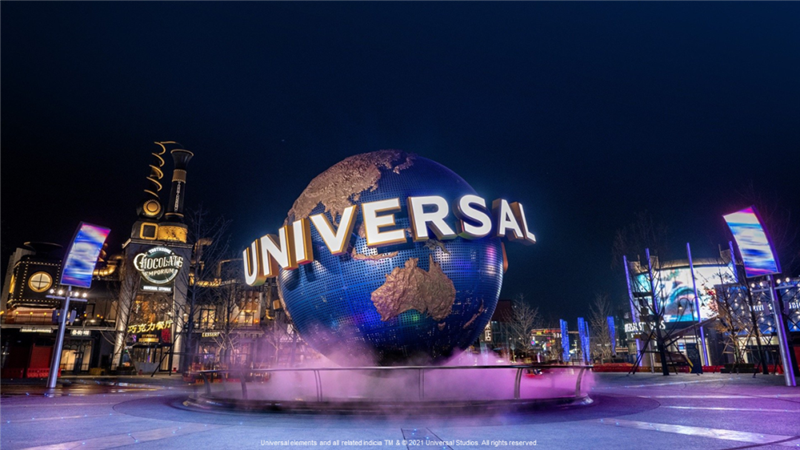 Universal Beijing Resort (Photo by Universal Beijing Resort)
01: Deepen school-enterprise cooperation to create a better future
Dr. Gao Songtao, president of BHI, leading the management team of BHI, visited Universal Beijing Resort. They took a look at the Beijing Universal City Walk and Beijing Universal Studios Park to have a detailed understanding of the present situation of Universal Beijing Resort. Dr.Gao also had a discussion with Thomas Mehrmann, president and general manager of Theme Parks and Resorts Management Branch of Beijing International Resorts Co., LTD., Page Thompson, president of International Business of Universal Theme Parks and Resorts Group, Joe Hoskins, senior vice president of Human Resources,Yin Dongmei, senior vice president of Human Resources, Employee Apartment and Environmental Health and Safety of Beijing Global Resort. During the talk, the two sides reached consensus on deepening school-enterprise cooperation and building education platform. Mr. Xu Longyang, dean of Academic Affairs Department, Mrs. Guo Ruihuan, director of Business Development Department, and Mr. Richard Chan, deputy dean of Academic Affairs Department and general manager of the Teaching Hotel attended the discussion.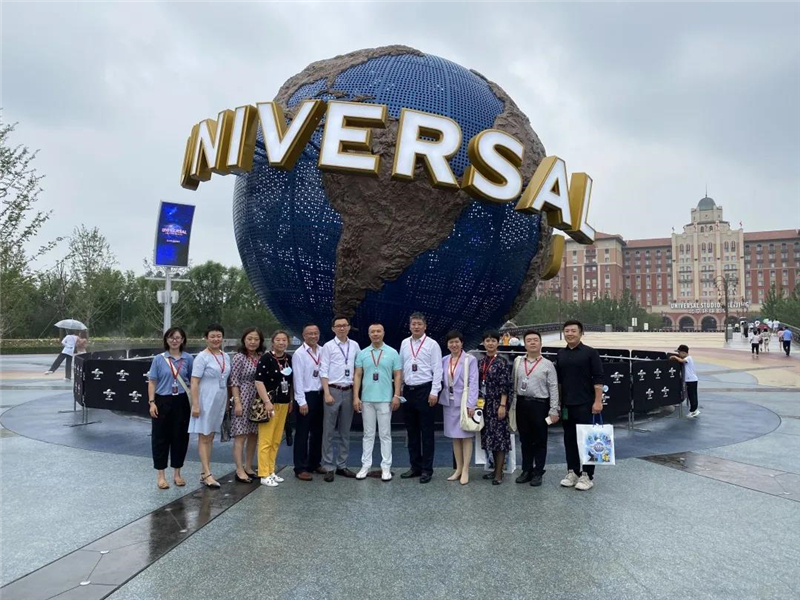 Dr. Gao Songtao (sixth from right), president of BHI, and his management team visiting Universal Beijing Resort, accompanied by Ren Xiaochao (sixth from left), campus cooperation manager of Universal Beijing Resort
Dr. Gao said the Universal Beijing Resort project is a key project of Beijing's cultural construction, as well as the city's largest Sino-foreign joint venture project. We are willing to provide high-quality talents for the park to serve the capital's economy and the construction and development of the sub-center of Beijing. We will further strengthen the cooperation between the two sides and promote the development of the management trainee program effectively and solidly relying on the professional expertise of BHI, to meet Universal Beijing Resort's needs for talents and achieve win-win cooperation between the two sides.
Leaders of the Universal Beijing Resort highly affirmed the BHI's talent cultivation mode and students' performance, and hope to continue to strengthen the cooperation with BHI to expand the brand promotion of the resort through the influence of BHI.
02: Provide high-quality talents with professional expertise of BHI
BHI pays much attention to cultivating students' professional qualities and skills. With excellent professional knowledge and rich practical skills, BHI graduates shine brightly in Universal Beijing Resort. According to statistics, more than 60 BHI graduates are working in Universal Beijing Resort, covering both the park and the hotel. At present, more than 10 BHI graduates have entered the management team. Each of them manages a team of more than 10 people on average, and the biggest team has more than 100 people.
Hou Ruonan, Class 2014, executive floor manager of NUO Resort Hotel
Jiang Yutong, Class 2016, duty manager of Universal Studios Hotel
Wang Liying, Class 2016, executive floor supervisor of NUO Resort Hotel
Song Lulu, Class 2018, floor supervisor of NUO Resort Hotel
Wang Yu, Class 2013, deputy manager of Attractions Operation
Ma Kuan, Class 2017, supervisor of Shuttle Bus Operation
Zhang Xiaoyu, Class 2020, captain of Resort Entrance
Han Yi, guest service supervisor
Li Xinyi, Class 2019, guest service captain
Wang Yuxuan, Class 2020, captain of Entertainment Escort
Wang Yuxuan, representative of excellent alumni
03: Build high-end internship base to help students start their career
At the 2020 internship job fair in BHI, as a popular internship partner, Universal Beijing Resort attracted nearly 50 students. Apart from the brand popularity, what are the attractions of working at Universal Beijing Resort? Two BHI students who are about to start their internship share their thoughts.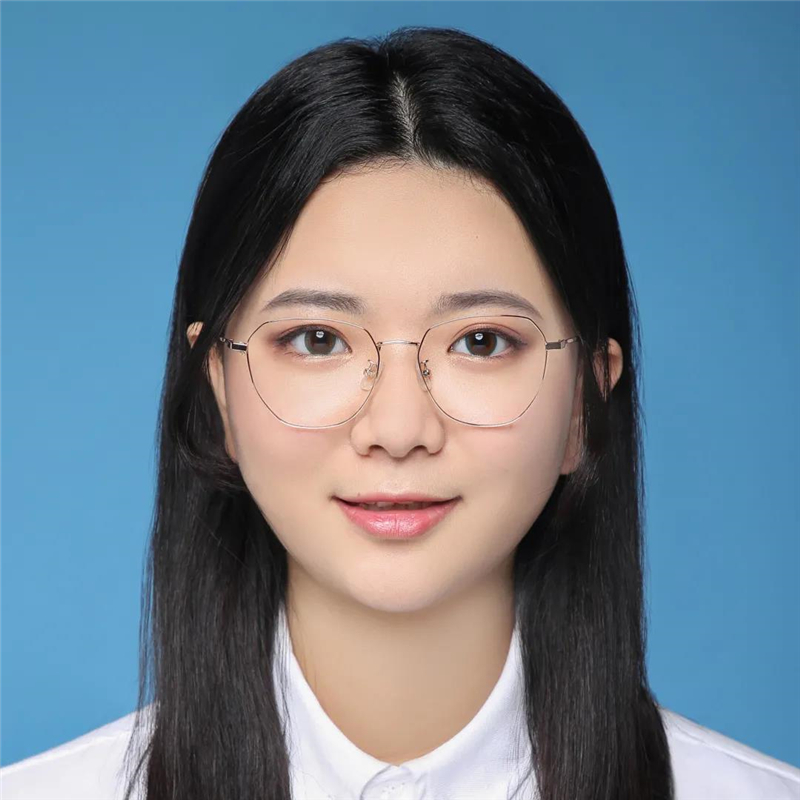 Mi Yitong, Class 2020, majoring in Hotel Management
Service intern of Fitness center/Children's Park
My first impression about Universal Beijing Resort is that it clearly presents my dream. I have been fond of Harry Potter since I was a child, and I am attracted by its Harry Potter IP.
I believe that with the high-quality platform of Universal Beijing Resort and a humble learning attitude, I will surely gain something here.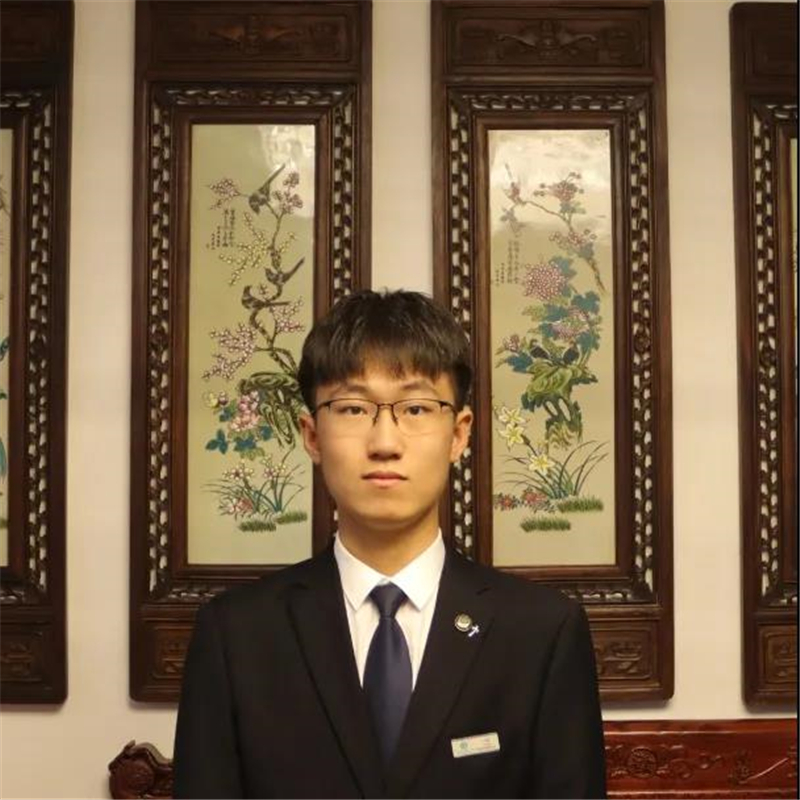 Xu Chen, Class 2020, majoring in Financial Management
Bellboy intern of Housekeeping Department
The working atmosphere of Universal Beijing Resort was extremely attractive to me. Working around the theme parks such as Transformers, Minions and The Magical World of Harry Potter will be a wonderful experience.
I hope I can constantly develop myself and challenge myself during this internship, so that I can integrate knowledge and practice and put what I have learned into practice!
The visit of BHI management team has further promoted the cooperation between BHI and Universal Beijing Resort, and BHI will continue to provide high-quality management talents for the Resort with our professional advantages.
Text: Yang Shanglin, Class 2019, BHI Press Corps, Leng Yan, Career Center
Photo: Career Center and interviewees in this report
Typesetting: Yang Shanglin, Class 2019, BHI Press Corps
Edition: Gao Yan, News center