New Opportunity: 2016 Career Day (For Year 4 Students Only)
On March 29th, 2016, Beijing Hospitality Institute successfully held a job fair for the graduating students of 2016 in the Multifunction Hall, Training Hotel.

The job fair attracted 62 hotels including the hotels of Marriott, Kempinski, Shangri-La, Four Seasons, Starwood, Hilton, Hyatt, Accor, Intercontinental, Fairmont, Aman Summer Palace, Swire, CTS (China Travel Service Group), BTG (Beijing Tourism Group) and so on. Many hotel HR directors and department directors came to the job fair and interviewed in person. More than 400 graduating students attended the job fair.
It is worth mentioning that the graduates of previous years have cut a striking figure in the hotel industry and some have become middle managers. On the day, 6 outstanding graduates on behalf of the hotels they work for came back to school as recruiters, which attracted many graduating students to consult and take an interview.
On April 19th, 2016, Beijing Hospitality Institute held a comprehensive on-campus job fair for the graduating students of 2016. A total of 55 well-known enterprises covering the hotel, tourism, media and exhibition, education, real estate, catering, finance, Internet and many other industries home and abroad took part in the job fair.
DTZ (Debenham Thouard Zadelhoff)
"As early as 2012, we took part in the campus recruitment. We think that the service concept and hospitality management background of BHI students agree with the business philosophy of our company. CHEN Chen, from the class of 2011, and the graduating student ZHAO Xinmiao are working for our company now."
Beijing Starbucks Coffee Co., Ltd
"The students majored in Hospitality Management in BHI have an outstanding service ability. For example, they participate in the layout of the recruitment venue. They are thoughtful and meticulous, fully reflecting the service awareness and spirit of BHI students."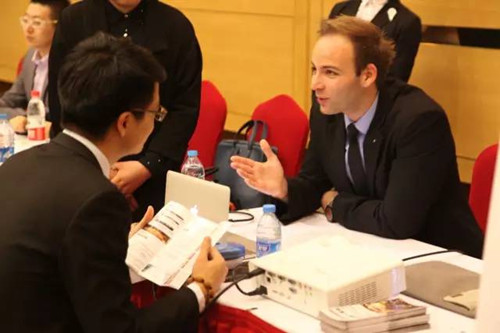 Orange Hotel Management (China) Co. Ltd
There will be new projects to carry out this year. Most of the managers are foreigners, so we need candidates with comprehensive quality, English proficiency and optimistic attitude. Come to BHI! It is easy to meet those requirements.
In order to promote employment, Beijing Hospitality Institute holds 2 large-scale job fairs and more than 30 small-scale career talks and interviews yearly for the students' career development.
We wish all the graduating students of 2016 find their ideal positions!