Congratulations! BHI's Hospitality Management Major Has Been Approved as National First-class Undergraduate Construction Major with Financial Management Major as Provincial First-class Undergraduate Construction Major
On June 7th, 2022, the General Office of the Ministry of Education issued the Notice on The List of 2021 National and Provincial First-class Undergraduate Major Construction Sites. The hospitality management major of BHI was approved as the national first-class undergraduate major construction major. Meanwhile, the financial management major of BHI has been approved as the provincial first-class undergraduate construction major. In 2022, there are a total of 260 undergraduate colleges and universities in China offering the major of hospitality management. The hotel management major of BHI is the only approved national first-class undergraduate construction major in Beijing this year.
With the hotel management major and financial management major respectively approved as the national first-class professional undergraduate course construction major and first-class undergraduate course construction major of Beijing, BHI gains the recognition from the public in its adherence to the characteristic school-running, meeting the industry demands, keeping innovation, and exploring unique Chinese application-oriented college school-running mode in the past 14 years.
BHI has excellent professionalism and excellent model. With hospitality management as its core, BHI has introduced and taken reference to the world's most advanced talent training mode and concept of higher education for hotel management, and carries out the professional teaching of integrating theory and practice relying on the real-scene hotel which integrates teaching and operation as one. Learning for practical application is the standard set by all professional talent training programs of BHI. Through classroom teaching and extra-curricular activities, students are trained to be both qualified as decent human beings and competitive workers with their professional skills and qualities improved synchronously. Students conduct their panoramic immersion learning in the different real operation sites of the training hotel, such as the guest rooms, Chinese restaurant and Western restaurant, banquet hall, Chinese and Western kitchen, red wine cigar bar, and coffee laboratory, and do the real hotel operations, such as materials procurement, food and beverage service, front office service, housekeeping service, banquet management, marketing and financial management, to complete the theoretical study and practical study of all the module courses .
Under the guidance of teachers and in the real environment, students carry out their study with real tasks, and gain both professional skills and professional quality. After mastering the basic skills and experience, BHI also arranges students to have internships in operation positions and management positions in world-renowned hotels and modern service enterprises in the third and sixth semesters to gain professional experience. After four years' study and one and a half years' practical work experience, students can quickly adapt to the environment of hotels and pan-service enterprises, seamlessly establish connections with the industry, and quickly become high-end talents who are popular, consistent and promising in the industry. BHI pays more attention to the cultivation of students' morality, which runs through all links of their education and aims to cultivate students to be decent and serious people. Classes in BHI are not limited to be given in classrooms, but in dormitories, dining halls, families and other daily life scenes. Students need to learn the dress code and etiquette standards based on the hotel industry, greet guests and teachers, and observe business etiquette and so on. BHI encourages students to participate in social practice activities, such as the Belt and Road Summit and China Net Open, which are taken as good opportunities for students' improvement and study. For 9 consecutive years, the Future Hoteliers Summit has become a brand of business activities for university students. Every link of the event, planning, conference organization, sponsorship and negotiation, is done by students themselves.
BHI has the latest teaching textbooks and expert teachers. All the professional courses of BHI are set and supervised by China Tourism Association and China Tourism and Hotel Association, which ensures that the courses are closely coupled with the development of the hotel and pan-service industry, students' knowledge and skills are compatible with their professional qualities, and students' theory and practice are fully integrated, so that students can truly learn and practice together. The professional textbooks used in BHI are all compiled in accordance with the standards of China Tourism Association and China Tourism and Hotel Association by practical teachers with abundant industry experience and academic teachers with profound theoretical foundation, who are led by the industry's top experts. All the textbooks used by students have the latest and most cutting-edge content, which is in line with the actual situation of the industry. They are professional self-compiled textbooks with high quality and characteristics. The faculty of BHI is composed of general managers and directors with rich experience in the hotel and pan-service industry and experts and professors with many years of working experience in colleges and universities, which makes it a real "double-qualified" faculty team that combines theory and practice.
BHI adheres to people-oriented education and unique campus culture. BHI persists in serving teachers and students wholeheartedly, adheres to the concept of "educating people and imparting knowledge" and the school motto of "Integrating knowledge and practice, applying knowledge in practice", and carry out the "5H" all through the whole process of talent cultivation, forming a unique campus culture. The concept of "educating people and imparting knowledge" is proposed at the beginning of BHI. It is not only the change of the order of "teaching" and "educating" in the traditional sense, but also the transformation of the concept. It emphasizes on "educating people first," and is the condensed idea of BHI's education philosophy.
BHI advocates serving students wholeheartedly, taking students as the masters of the school, fully respecting, caring for, helping and protecting students, and handling students' questions and difficulties once requested. "5H" refers to "Hand," "Head," "Heart," "Health" and "Happiness." "5H" has 3 different divisions: 5H for students, 5H for full-time teachers and 5H for assistant staff. Through the 5H training, all teachers and students will be covered, so that all teachers and students can live, work and study healthily and happily in BHI.
Over the years, BHI has been actively promoting the integration of campus culture and hotel culture, and carrying out professional quality-oriented formative education. BHI regulates all teachers and students in accordance with the standards of dress and service etiquette of the Chinese hotel industry, and conducts comprehensive training for all teachers and students. In addition to the daily norms of behavior, BHI also pays attention to the cultivation of students' living habits, which is mainly reflected in the star dormitory evaluation and smoke-free campus construction. BHI encourages teachers and students to work together to maintain campus cleanness, and lead students to improve their personal life skills and form good behavior habits through collective work. The practice of formative education is guaranteed to be implemented by the Dandelion Team and code of conduct management system. At the same time, BHI encourages students to manage themselves and participate in the school management. To meet such needs, BHI has set up student court, campus guard, apartment committee, catering committee and other self-managing organizations.
The achievements of BHI's education have been recognized by parents, hotel industry and the government. So far, BHI has trained 8,057 graduates for the society, of whom 50% are working in the hospitality and pan-service industries, 35% work in banking, investment, media, etc., and 12% go on studying abroad. Most of the graduates have been promoted to management positions. The volunteer service of BHI students has become the benchmark of high-end service in Beijing and even In China. BHI has developed special training courses to help the development of the hotel industry and pan-service industry.
BHI is committed to exploring and answering three core questions of application-oriented undergraduate education in China: "To cultivate talents for whom? To cultivate what kind of talents? How to cultivate talents?" After more than ten years of practice, BHI has grown its unique education mode with distinctive features. BHI has become a model to application-oriented hospitality management undergraduate education, and has gradually become a banner of the hospitality management education, known as the"Huangpu Military Academy" in the hospitality industry. This year, the approval of BHI's hospitality management major and financial management major as national first-class undergraduate construction major and Beijing first-class undergraduate construction major respectively, represents the fruits of BHI's adhering to the characteristic education for more than 10 years, and it also represents that the construction of the majors around hospitality management stands in the forefront of the country!
In the future, BHI will continue to work hard to cultivate qualified talents with good professional qualities and skills for the industry to power the industry's progress!
Hospitality Management Major
Hospitality management is a comprehensive and special management discipline, as its learning content covers core management courses: marketing, financial management, human resource management, etc. The tittle of the major uses the term "hospitality" (≠hotel), since hospitality refers to reception and hospitality. Relying on the hotel industry, this major combines the excellent standards of international high-end brand hotels in pursuit of quality, taste and cultural inheritance with the core courses of management and business.
It focuses on cultivating students' application ability and professional spirit to foster international application-oriented high-end business management talents with good professional ethics, professional quality and professional skills.
The courses of coffee roasting and making, cigar tasting, western food etiquette, wine and spirits, etc., aim to cultivate the basic operational ability of the students.
The courses of basic service management, financial management, tourism, catering service and management, human resources management, revenue management, and strategic management, etc., aim to cultivate students' ability of hotel operation management.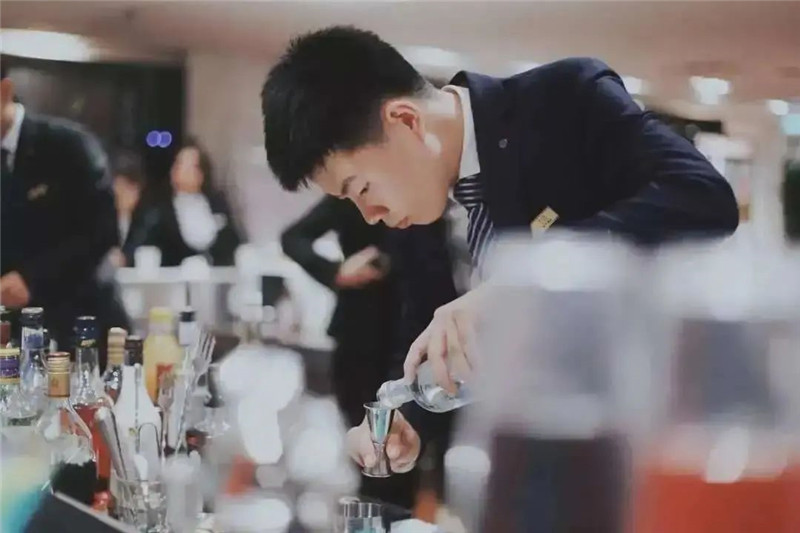 Besides, through off-campus practice and social practice, students can experience the actual operation of the hotel, exercise their interpersonal skills, and accumulate experience for their future career development.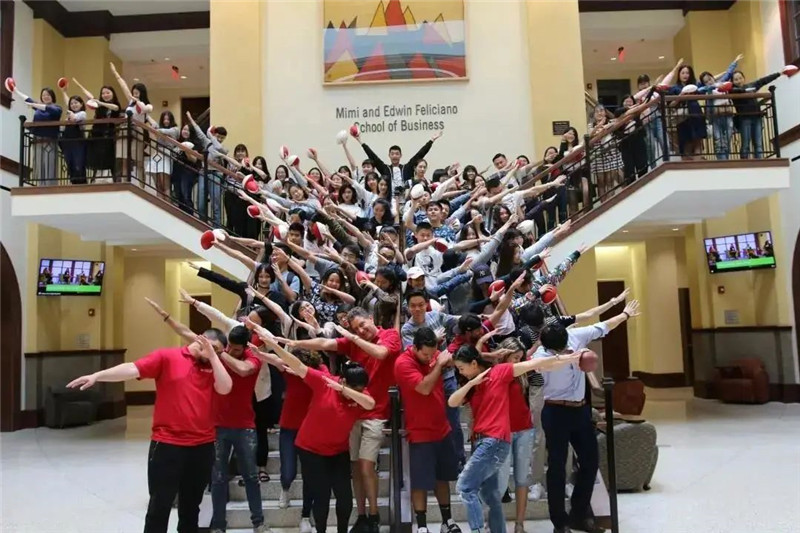 BHI student interns at Disney Orlando, USA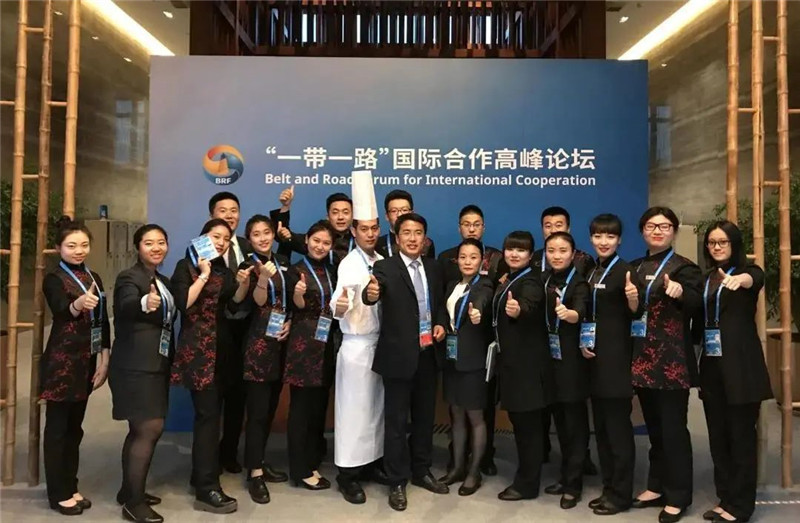 BHI volunteers in the Belt and Road Summit
The hospitality management major sets up classes for international courses.
★Compulsory IELTS courses
★Core courses are taught in English
★Free overseas study tour (regional history and culture + professional courses)
★International courses offered by overseas partner universities
★Access to have overseas double degree and package programs for bachelor's and master's
★Guidance course for studying abroad + Experience sharing lecture by alumni studying abroad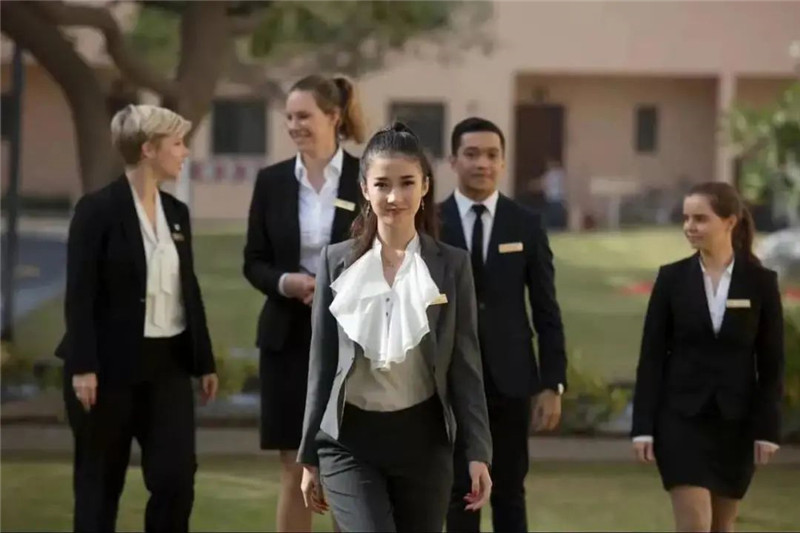 Financial Management Major
Financial management belongs to the business administration category of management science, and it is an integral part of enterprise management. It is economic management work that organizes enterprise financial activities and deal with financial relations in accordance with financial laws and regulations, and the financial management principles. This discipline studies how to manage the capital movement of enterprises through planning, decision-making, control, assessment, supervision and other management activities, so as to improve the efficiency of capital use.
The financial management major in BHI takes hotel management as the scene. The biggest advantage of it lies in its characteristic career demand-oriented formative education mode based on China's Accounting Standards for Business Enterprises and international Unified Accounting System for Hotel Industry, to cultivate compound and application-oriented financial management talents for high-end service industry with strong comprehensive qualities in accounting, operation management, investment and financing management, corporate and personal wealth management, capital operation, risk control and other aspects.
The courses of this major is designed to enable students to obtain the following vocational certificates: junior accountant, junior management accountant, junior auditor, junior economist, certified public accountant, asset appraiser, tax accountant.
This major puts emphasis on the coordinated development of students' knowledge, ability and quality. It takes characteristic career demand-oriented formative education mode to cultivate professional financial management talents for hotel and pan-service industry with good professional ethics and professional quality, solid professional skills, excellent financial management, and to cultivate versatile and application-oriented talents with basic theory and skills in management, economy, law, accounting and finance, and comprehensive qualities in financial management, investment and financing management, corporate and personal finance, capital operation, risk control, etc.
BHI volunteers in China Open
Welcome to apply for the national and provincial first-class undergraduate majors! Welcome to join BHI!