BHI Internship Job Fair | Over One Thousand of Jobs form Hundred Enterprises of Various Industries Provided for Students
On November 3, BHI internship job fair for the sixth semester of Class 2020 was successfully held in the combined form of online and offline. The fair attracted 150 enterprises from all over the country to participate, covering pan-service industry, hotel industry and health industry, and provided 1,028 jobs for BHI students in total, meeting the diversified needs of students' career development.
Part of the creative table settings of the enterprises and hotels
On the day of the internship job fair, Dr. Gao Songtao, president of BHI, leaders at all levels of the school, teachers from Career Center and other offices, and counselors came to the site to know about the interview of the students, answer the questions from them, and encourage them.
BHI students took the interview carefully
Due to the need of epidemic prevention and control, some enterprises could not attend the internship job fair on site, but the online interview was also wonderful. Students made appointments with relevant company leaders in the cloud to have the interview and they achieved good results.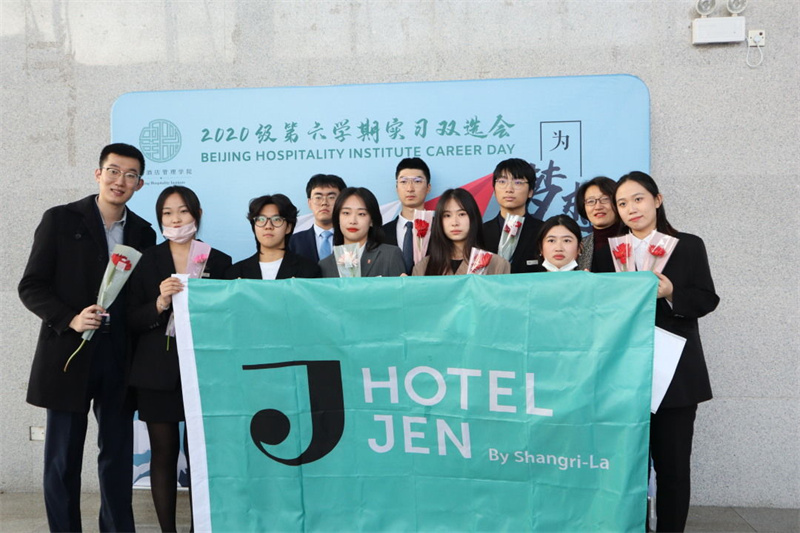 At the job fair, I saw a lot of future hotel executives. In my communication with the students, I was deeply impressed by their solid professional skills and high enthusiasm for the hospitality industry. During the internship, I hope students will not be afraid to make mistakes. My team and I will try our best to help them. Finally, I wish the students all the best in their internship and look forward to their joining!
-- Mr. Cameron Cundle,  general manager of Peninsula Hotel Beijing
Text: Miao Ruonan and Cai Fangfei, BHI Press Corps
Photo: Hu Jinbao, Dong Jingyi, Dou Yuxin, Feng Yaxuan, Li Shangze, Wu Peiying, Ma Junlin, Wang Junhan, Zhang Taiyu,and Wang Youxuan, BHI Press Corps
Typesetting: Miao Ruonan and Cai Fangfei, BHI Press Corps
Editor: Gao Yan, News Center
Email: news@bhi.edu.cn