Notice on Early Application for Admission to the Master of Science and Double Master Programme at Rennes School of Business in 2023
Project Duration: From January 2023 to January 2025, two academic years (or 1.5 academic years)
Location: Rennes, France
Qualifications of Applicant:
1. Registered full-time undergraduate of BHI (Class 2020)
2. Good physical and mental health, good conduct, no failing grades of required courses, no disciplinary punishment or academic punishment in BHI
Programme Requirements:
1. IELTS 6.0 or above (including 6.0), or TOEIC 750 or above
2. Have strong comprehensive quality and independent living ability
3. Excellent academic performance and good internship performance
How to apply:
1. Deadline for on-campus application: November 1st, 2022
2. Fill in the Application Form for International Exchange Student of Beijing Hospitality Institute(click "Attachment 1"on this page to download)
3. Both Chinese and English academic transcript and studying certificate (7:00-21:30 every day; self-service printer is located on the east side of the 2nd floor of the Teaching Administration Building, upstairs of the Rising Bar)
4. Resumes in both Chinese and English
5. Copy of language transcript
6. Passport (Personal information page and visa page)
7. Motivation Letter (Word document in English; confirm format with Training and International Exchange Center )
8. Letter of recommendation (just leave the contact information of the referrer; the referrer will receive a link and could reply in the form of answering related questions)
Notes: Please prepare all the above materials, and send the scanned copies to feng.he@bhi.edu.cn, carbon copy to hu.xiuying@bhi.edu.cn. The email subject should be "application + name + student number + school name". The Application Form for International Exchange Students of Beijing Hospitality Institute needs to be signed by parents. Applications submitted late or not in accordance with the format will not be accepted.
Application process:
1. Material verification
2. Interview (video available)
3. After passing the verification by the host institution, students will receive the acceptance letter.
4. Attend the training session held by BHI for the overseas exchange programme, and sign the Letter of Informed Commitment of Beijing Hospitality Institute for Overseas Exchange.
About Rennes School of Business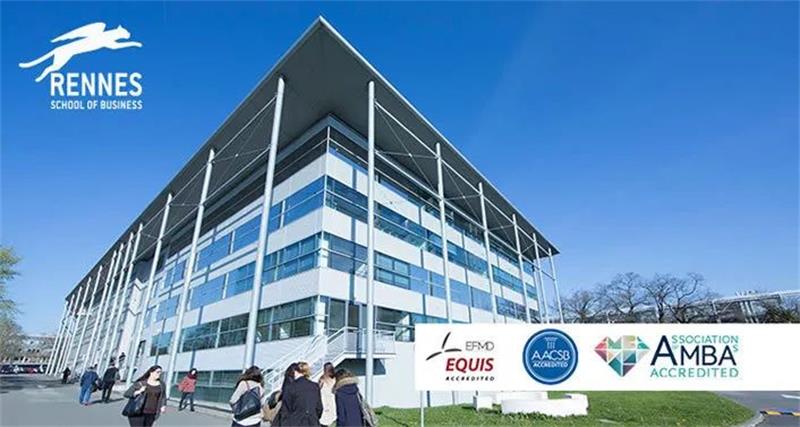 Rennes School of Business (ESC RENNES) is located in Rennes, France, and is honored as the Crown School with three authoritative certifications of AACSB, EQUIS and AMBA, which makes it one of the top business schools in the world. Only 1% of the business schools in the world can be called Crown Schools. It is also accredited by the French government as the "Grande Ecole" school of business management. Among more than 200 business schools in France, only 38 are accredited by the French government as elite schools. Since its establishment in 1990, it has been continuously pursuing internationalization and has achieved outstanding achievements in the past 13 years. It is now the fastest rising business school in France.
* Ranked the 45th in the world for Master of Management by the Financial Times in 2020;
* Successful completion of the HBBA program leads to 3 degrees in 2 years (1 bachelor's degree, 2 Master's degrees);
* Provide teaching in English and more than 10 majors for choice;
* Offers free French language learning courses
For more information, please call 13121944008 or email to feng.he@bhi.edu.cn