BHI 2016 Countdown Party: Jay Chou Was Coming
At 7: oo pm of 22nd December 2015, BHI has hold a grant countdown party in the banquet hall of training hotel, which has lasted for 3 hours and nearly 1000 students and teachers have participated in.
This party was unique, because it combined eastern and western culture together and hospitality features. 'Passion', 'Young' and 'Sunshine' were three elements, which were full of the stage. Unlike past years, in this annual meeting, the red team and blue team were competing with each other. Audiences can scan the We-chat code in order to pay their attention, participated in them and chose the favorite team and program, who would obtain opportunities to get prize.
Two teams were named 'Christmas blue' and 'New year red', which have taken turns to perform. At the beginning of the party, a series of performances have risen the atmosphere of the stage. Four hosts have changed their traditional TV style into natural characters.
Students' singer group 'The local legend', whose pictures always popular in the We-chat moments, have performed a song—'tomorrow is not working', which has been acted by two famous singers in the Chinese popular TV program. The song has strong rhythms and the audiences have immersed themselves into their performance. Specifically, during the rap part, everybody raised their glow-sticks and sang with them, which have put the stage atmosphere up to the climax.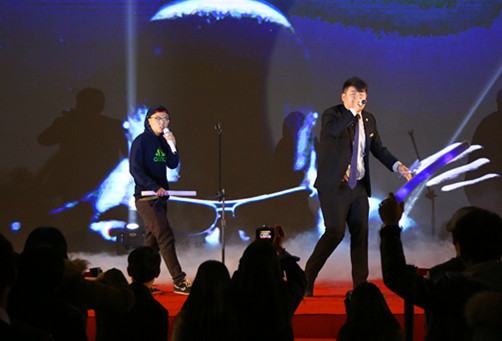 Mr. Tong, who enjoys the nick name 'swordsman', has performed magical rectification. It has brought audiences a great visual banquet and gorgeous cocktail.
With constantly surprises, the lighting was moving on the center of stage, counselors and student union sports department members have shown the T-shape modeling, whose professional performance made audiences extremely exciting.
Senior Counsellor 'Elder brother Zhili' (right)
The Tai Chi Master 'Mr. Ren' (in the middle)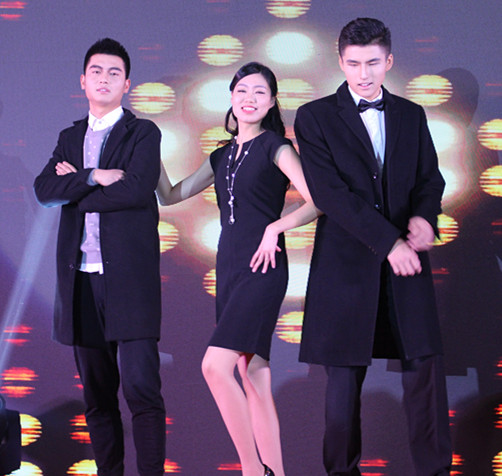 Sexy Lady 'Song Jingyang'
Cute Girl 'Zhang Moruo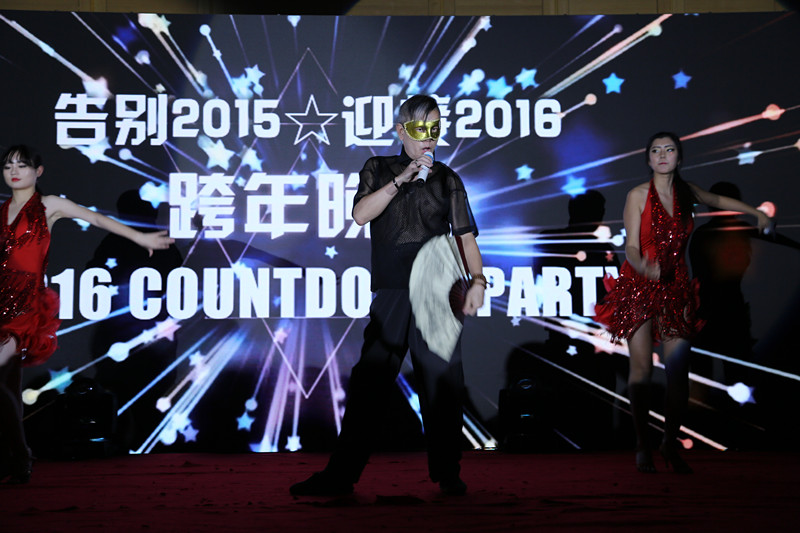 Mr. Lau who is the director of quality audit department sang "Sway" with his dancing partners, who were very attractive and amazing.
The original stage has played 'A Day of Xiao Xin', which was written by life department of Student Union, telling us how students spend their one day in BHI. During this performance, security members and aunts and uncles who were working in BHI's dining room were invited into the stage, which made audiences obtain a sense of warm. Suddenly, there was a familiar voice from Mr. Lau 'what are you doing?' 'How can you wear your suit like that?'At this time, students never feel upset, unlike the time Mr. Lau strictly checked everyone's formal suit and behavior in front of BHI campus.
The PR department of Student Union has invited 'Jay Zhou' to perform for audiences, which was extremely eye-catching when 'Jay Zhou' appeared on the stage. We-chat moments were flooded into the micro-video about 'Jay Zhou was coming to BHI'.
Distinguish guests Xin Jiekou rappers who are famous rappers in Beijing, were singing songs for BHI students. The living atmosphere on the stage can reach the huge singing concert.
At the end of the party, We-chat moments were not terminating. Many students and teachers uploaded their beautiful pictures, amazing micro-videos and unforgettable performance. It is a memory of 2015 and the great expectation for 2016!