Internship Dual-option Recruitment Fair for BHI Students of 2018|Party between the Students and 94 Five-star Hotels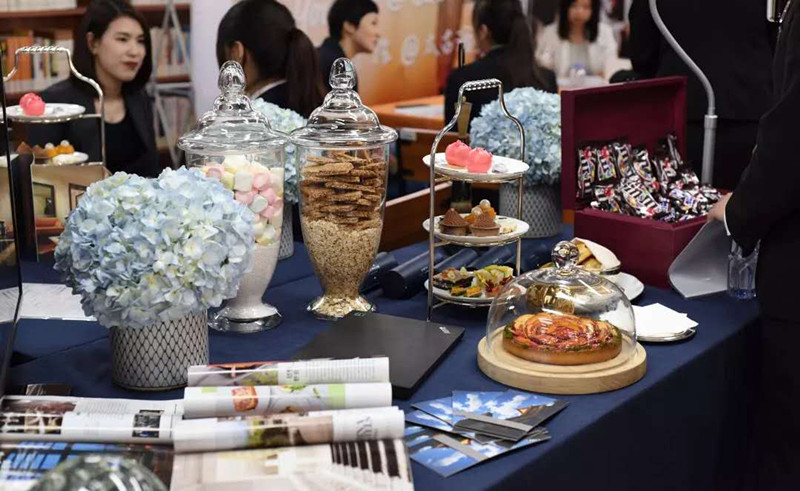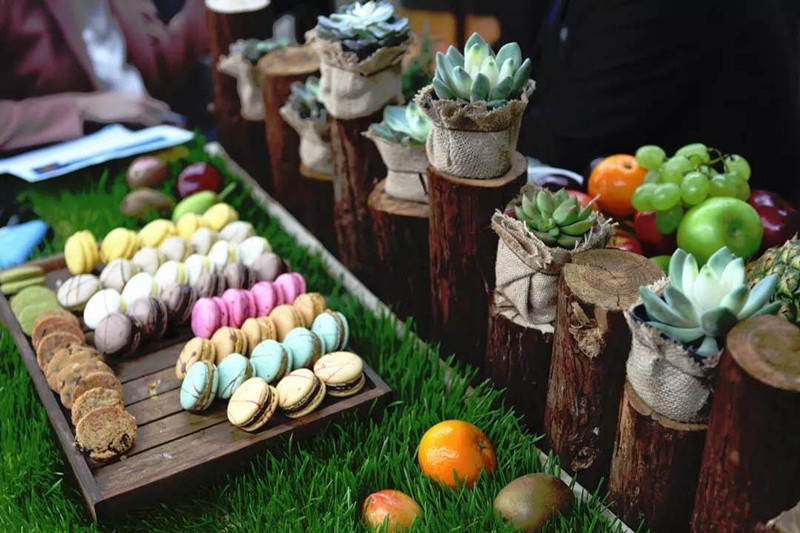 Part of Creative Booths for the Internship Dual-option Recruitment Fair of 2018
Delicate set-ups, ingenious decoration, tempting pastries and pretty candies……
You might think this is a party held by a five-star hotel, but actually it is a secret weapon carefully prepared by the hotels for "vying for interns" from BHI.
On May 16, the Dual-option Recruitment Fair for BHI students of 2018 kicked off. 94 hotels from ten provinces and cities and overseas hotel groups came to BHI, providing 1541 internship positions for about 800 students of 2018. Freshmen of BHI, with mature and balanced occupational temperament, have already started their first interviews when senior students of other schools are anxious about their internship and employment.
On the day of the Dual-option Recruitment Fair, Dr. Gao Songtao, president of Beijing Hospitality Institute (BHI), and Zhang Huailin, secretary of the party committee and vice president of BHI, appeared on the scene to understand the interviews.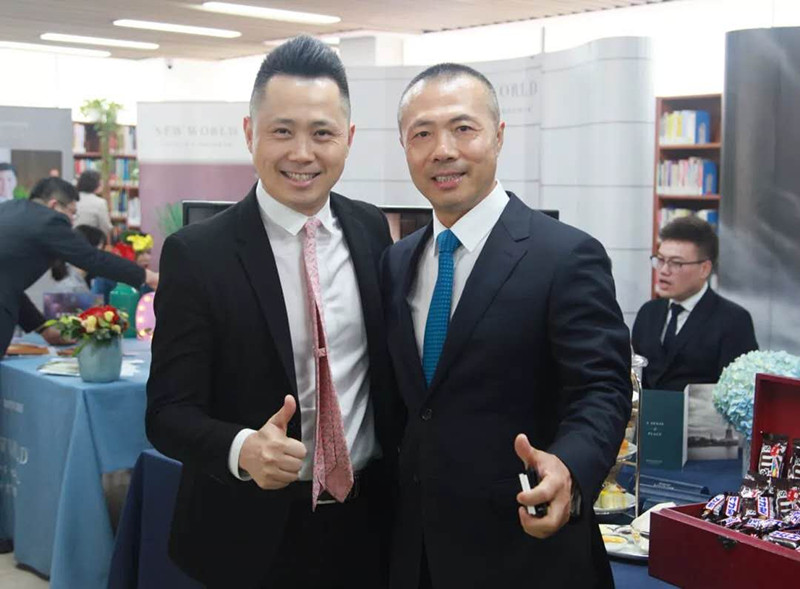 President Gao Songtao Communicating with Principal of the Dual-option Recruitment Fair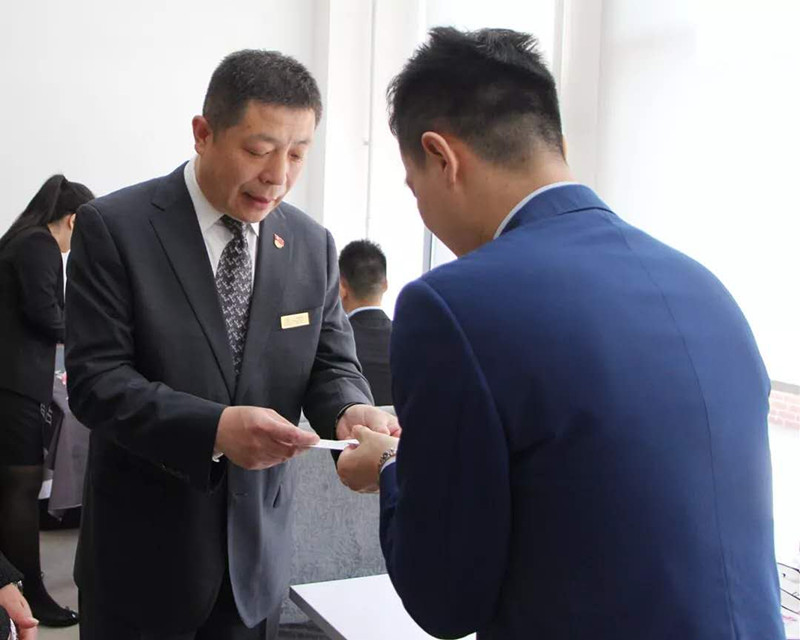 Secretary Zhang Huailin Communicating with Principal of the Dual-option Recruitment Fair

Students Earnestly Preparing on the Interview Scene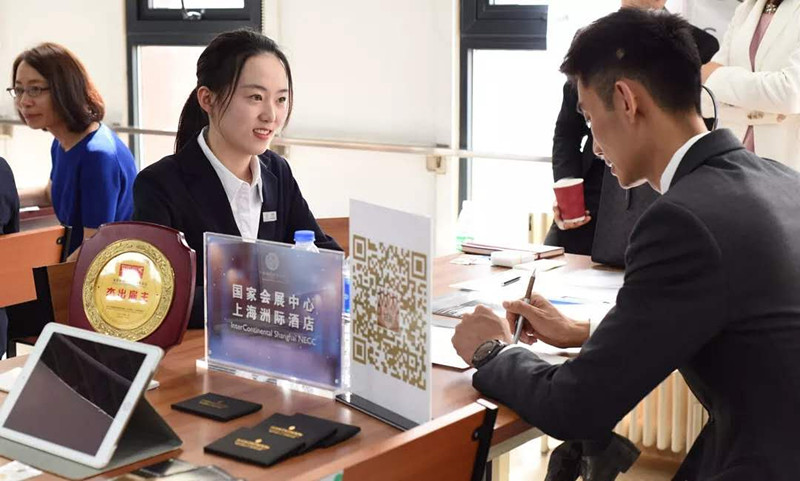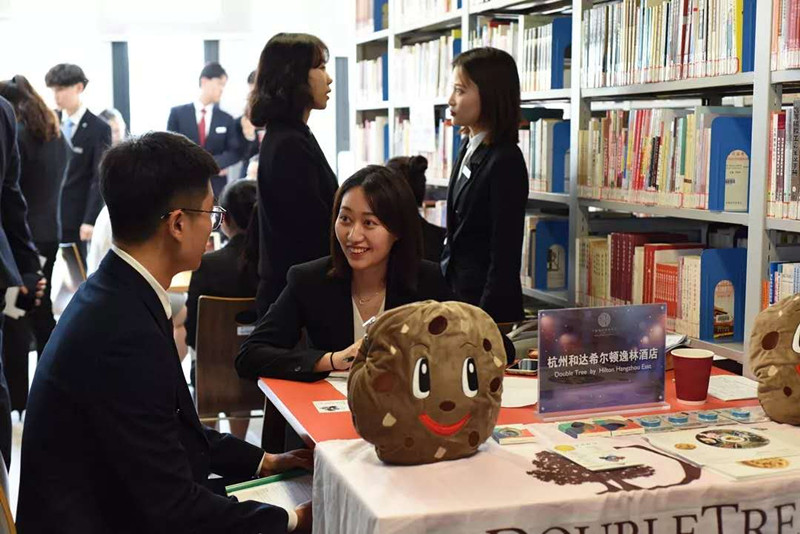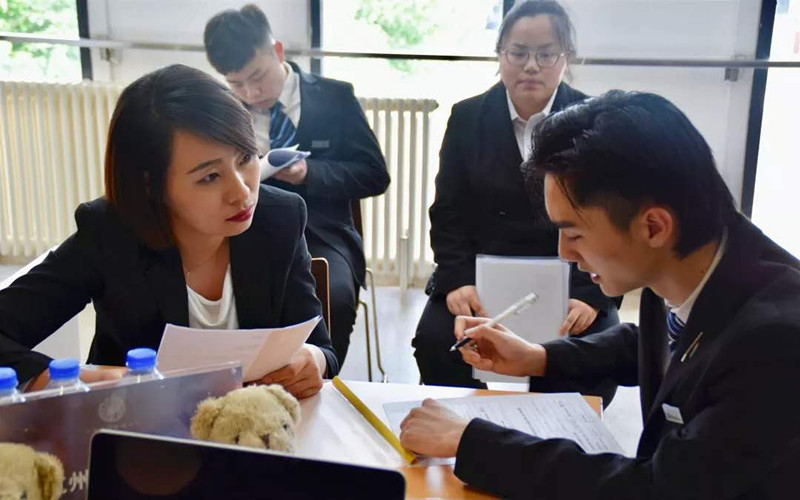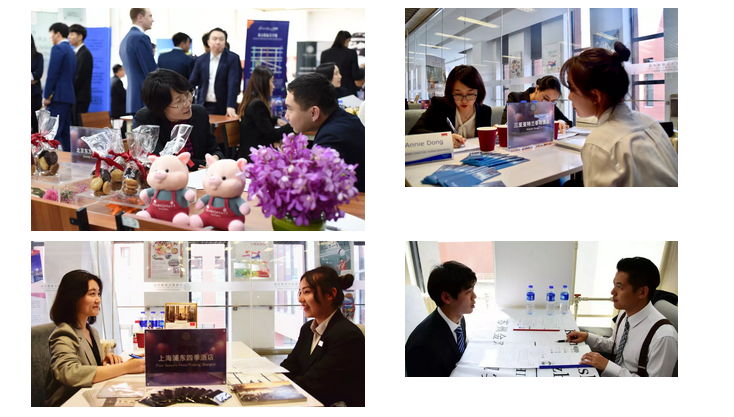 BHI Students Attending Interviews on the Scene
BHI'ers, are you ready? The hotels are ready for "vying for you"!
Strategy 1: Career Talk
BHI students are very hot all the time in the hotel industry because of their professional vocational skills and outstanding occupational qualities. To "vie for" the BHI interns, each five-star hotel has "used all the means" to recruit. Executives of 63 hotels had arranged career talks before the Dual-option Recruitment Fair to introduce recruitment conditions, benefits and other information of their hotels. Many executives and even general managers of the hotels participated the career talks personally.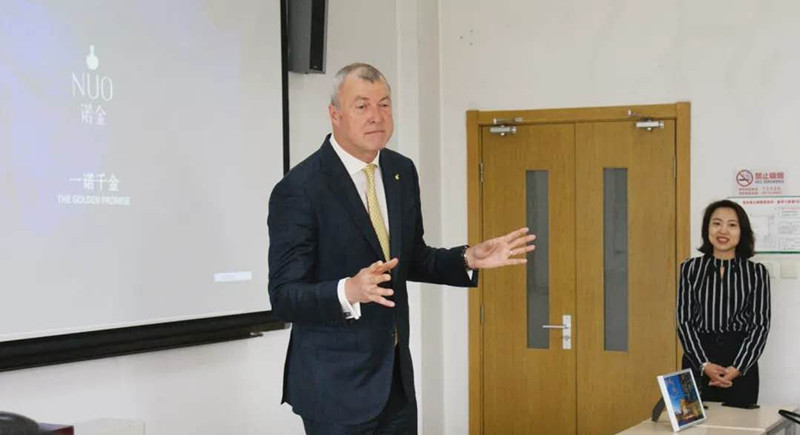 Mr.Wimmer Bernhard, General Manager of NUO Hotel Beijing Spoke in the Career Talk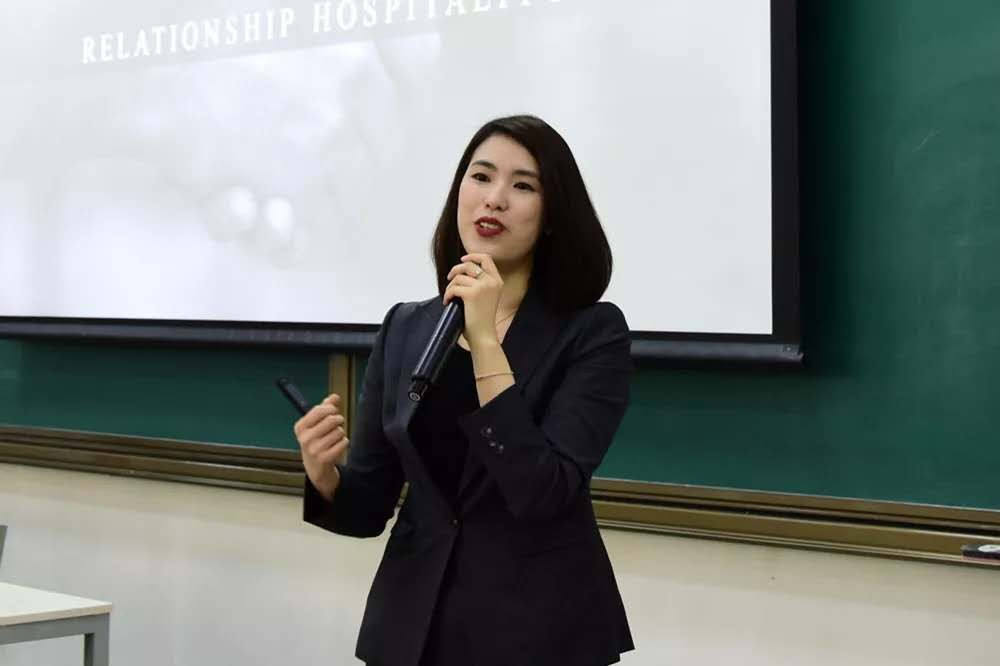 Career Talk of Rosewood Hotel Beijing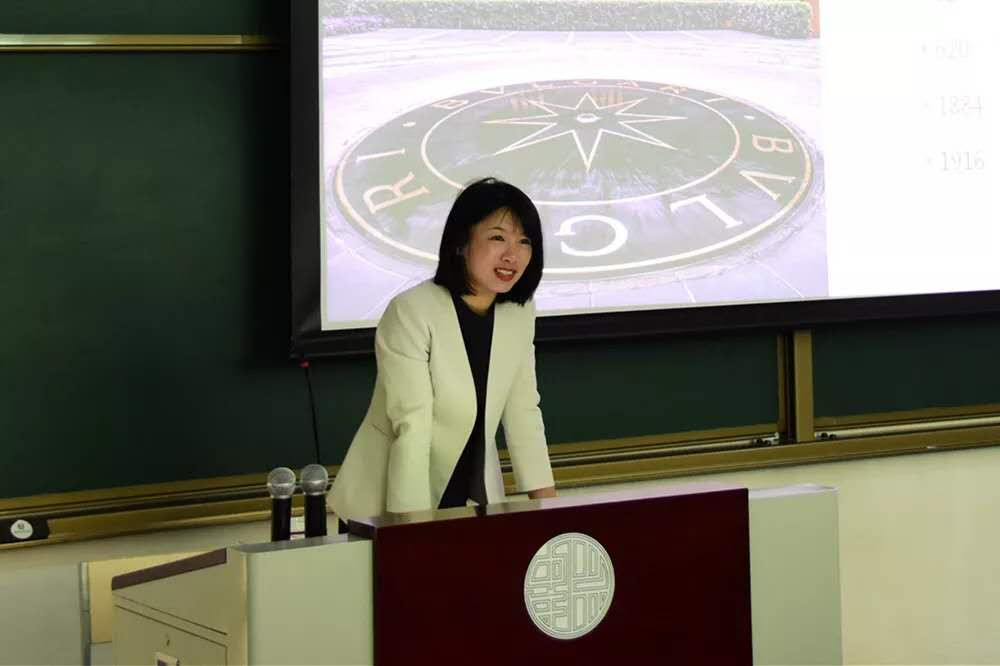 Career Talk of Bulgari Hotel Shanghai
Strategy 2: Executives Conduct the Interviews in Person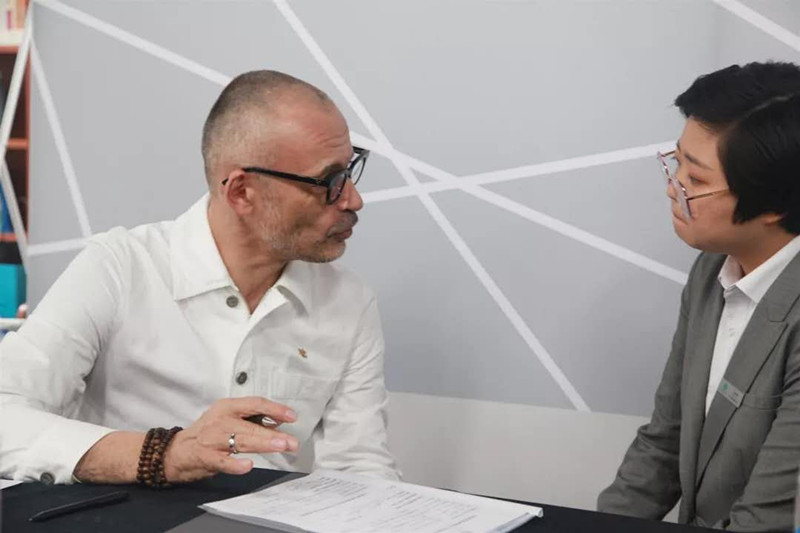 Mr. William Latour, General Manager of CHAO, is interviewing a BHI student
"I've participated in the recruitment of BHI for many times. Our hotel is different with traditional hotels. Its creative design can motivate people's inspiration. Our operation mode is also innovative. The creativity of BHI students is well-integrated with CHAO. I hope you can do your internship in our hotel and we will grow together."
Mr. Aref Sayegh, General Manager of NUO Hotel Beijing, is interviewing a BHI student.
"This is my first time to attend this Dual-option Recruitment Fair. I can feel your passion to your majors and the institute which is very responsible for the preparation of the Recruitment Fair. The details are very good. Specific to interns of BHI, our hotel will formulate a brand new personnel cultivating program. The time of induction training has been adjusted correspondingly so that you can learn more practical knowledge and get familiar with the hotel as soon as possible."
Strategy 3: Schoolfellow Returning to School for the Recruitment
BHI graduates, distributing in different hotels, have become a force that cannot be ignored in the hotel industry after years of development. Many BHI graduates have grown into the management staff from general staff in a short time. On every occasion of the dual-option recruitment fairs and job fairs, many hotels will send their employees who graduated from BHI to their alma mater.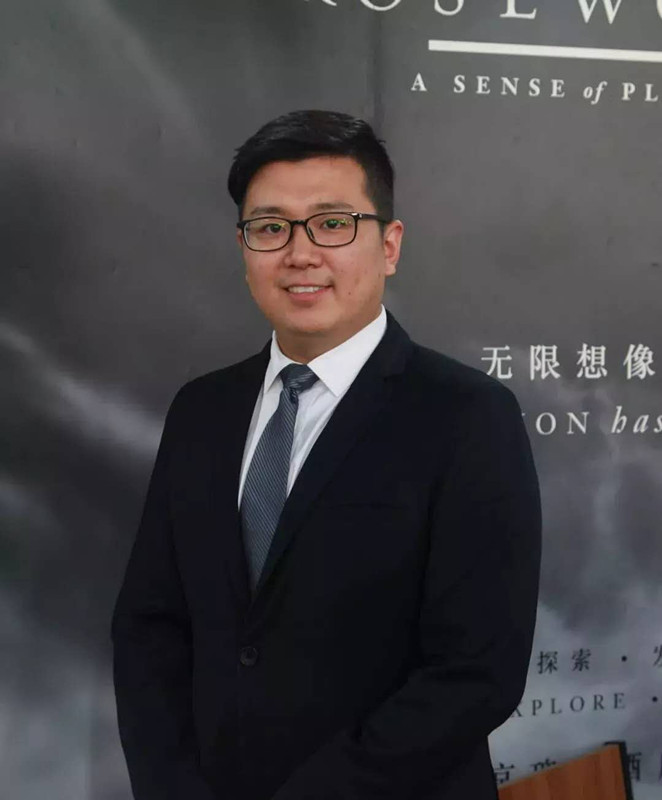 Wei Pengfei
Director of Training & Development Department of Rosewood Hotel Beijing
BHI Graduate of 2017
Yang Qing
HR Director of Hyatt Regency Beijing Wangjing
BHI Graduate of 2017
Xin Weichunzi
Front Office Manager of Aman Summer Palace Beijing
BHI Graduate of 2013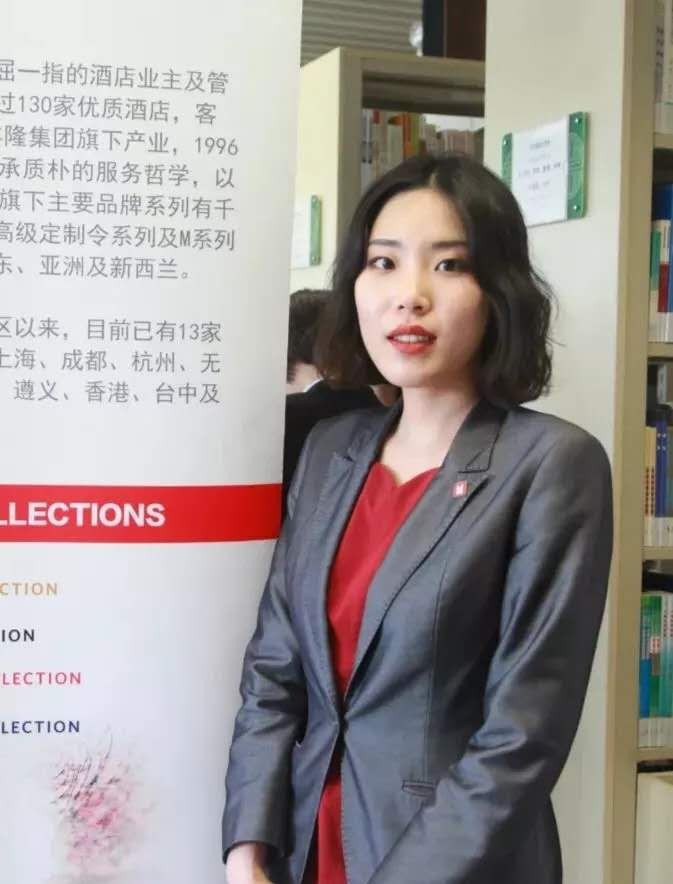 Feng Cheng
HR & Admin Supervisor of Grand Millennium Beijing
BHI Graduate of 2015
Many new hotels have joined the competition!
Most hotels are old friends to this Dual-option Recruitment Fair, but there are also new friends every time. Five new hotels attended this recruitment fair for the first time, including Atlantis Hotel Sanya, which was a combination of resort hotel and business hotel, the newly started Puxuan Hotel and SPA, the homestay-style Banyan Tree Hotel Tianjin, Hyatt Regency Beijing Wangjing, which was outstanding in catering services and Pan Pacific Beijing which was close to the Imperial Palace and located in prime tourism area.
Although these hotels came to the recruitment fair for the first time, they all spoke highly of BHI students and had fully prepared for this fair.
Dong Liyang (on the left), HR Deputy Director of Atlantis Sanya and Zhang Wenna (on the right), Manager of ADD Restaurant and BHI schoolfellow of 2013 are accepting a press interview.

"Due to the unique teaching system of BHI, the students can get with their positions very fast. Therefore a BHI graduate has been promoted to the front desk supervisor and another has been promoted to the manager of our western restaurant. This recruitment is also closely related to our subsequent personnel training. We will help the students to fit in with the internship, make career plans and provide more professional and accurate trainings."
Said by management once guiding BHI interns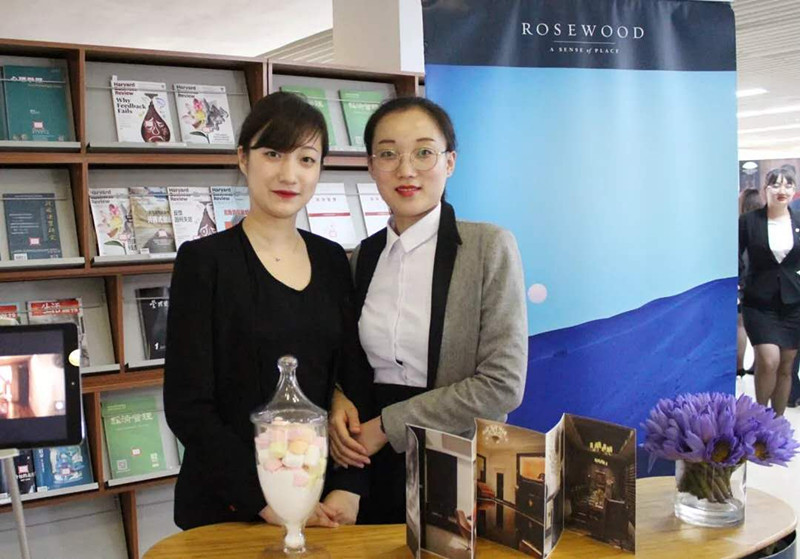 Rosewood Hotel Beijing
Holly (on the right), Assistant Lobby Manager, and Li Xinya (on the left), HR Assistant and BHI Graduate of 2019
"BHI students are very steadfast, which is very seldom. They have good executive capacity as well as excellent English speaking ability. We bring a bus-load of materials to this Recruitment Fair so that we can attract more students to our hotel."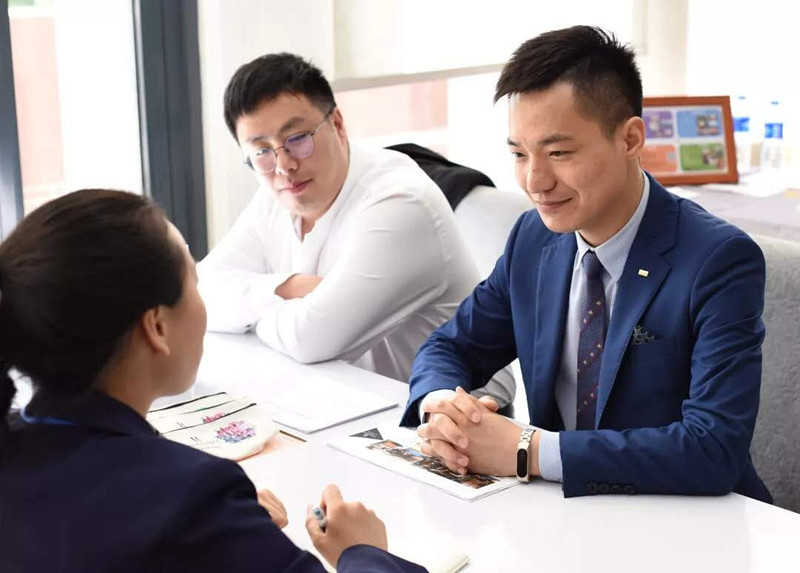 Renaissance Suzhou Hotel
Yuan Jinhu Deputy Director of Housekeeping Department
"I started to know students of BHI in 2011 when I had good impression on them. Their dressing and appearance are appealing. They have had good conception of dressing when others are not adapted to the formal wear. During the internship, they can rapidly enter the working state with the help of their solid foundation of practice and better English level."
BHIers have pulled together for the preparation of the Dual-option Recruitment Fair
Each hotel has used every means to recruit interns. The students of 2018 are also prepared to the interviews. Many other BHIers are contributing silently on the scene: teachers of the campus culture construction office waited at the entrance of the Recruitment Fairl early to supervise and remind the students of their makeup and etiquette; volunteers are doing the safeguard works at different invisible positions.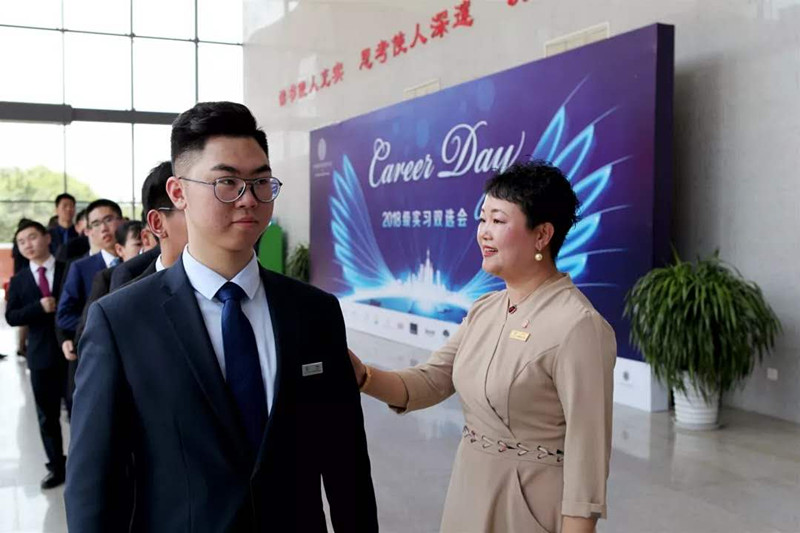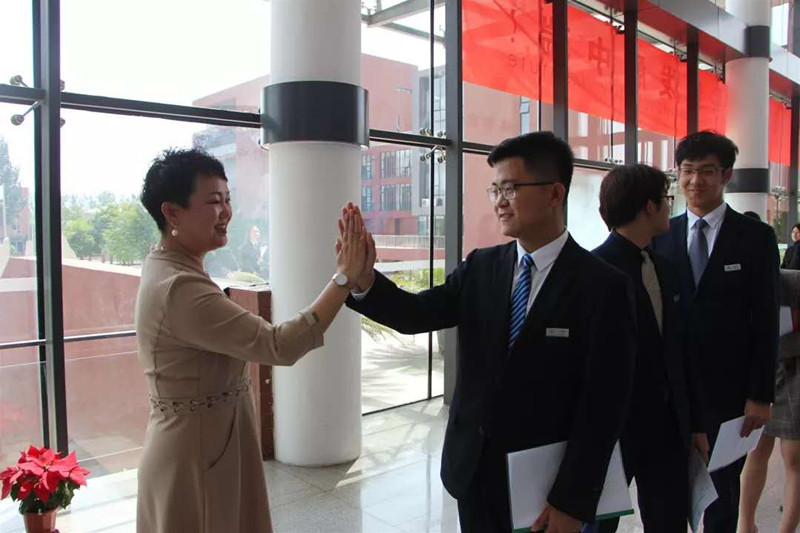 Shi Jingying, Director of Campus Culture Construction Office, doing site supervision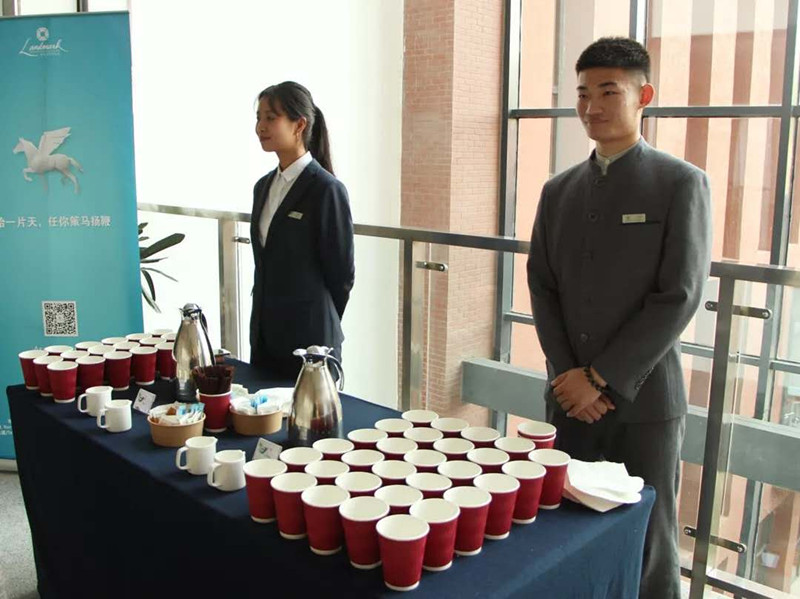 Volunteers Providing Tea Break Service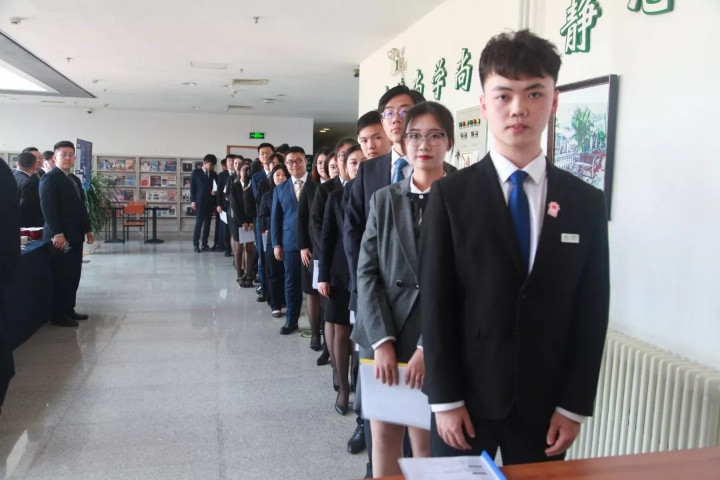 Students enter the scene orderly under the guidance of volunteers
Said by BHIers who have got favored offers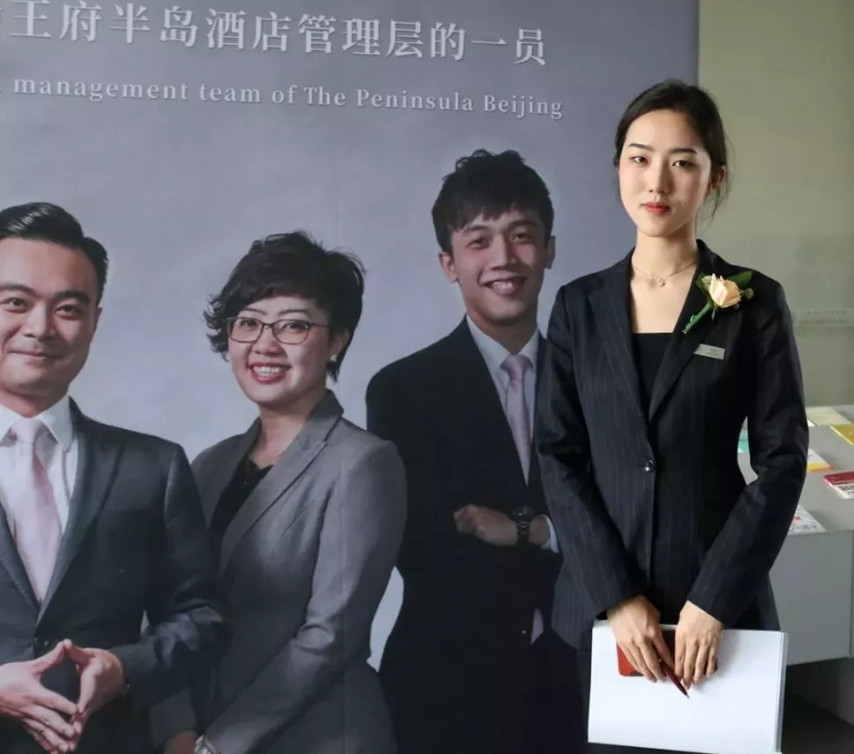 Xie Linbing Student of Class 24 of 2018
With a beautiful champagne rose in her chest, Xie Linbing is striking in the crowd. This flower is the sign of an official intern of The Peninsula Beijing, who has passed three turns of English interviews and performed distinguished among numerous candidates. She feels happy after successfully getting her offer. "After I studied in BHI for almost one year and had some understandings on each hotel, I precisely chose The Peninsula Beijing.""The interview of The Peninsula Beijing mainly values our English level and confidence. Many questions are proposed casually. Fortunately, I have well prepared these questions. During this period, I can't sleep well. The memo in my phone is full of simulated English interview questions. Now a stone in my heart can finally roll down to the ground."
On the scene of the recruitment fair, what you can see is confidence, sunshine and equal communication and share. It is the desire of the industry for the new emerging forces and the careful balancing and imagination of the students towards future career.
The Dual-option Recruitment Fair of BHI is more like a party among the institute, students and the hotel industry. There are schoolfellows, old friends with years of cooperation and new friends attracted by the fame. They all talk cheerfully and humorously. The Dual-option Recruitment Fair is also an uncommon gathering for all friends out of work. "Why I came to BHI to learn hotel management? It's because of the circle", said by a schoolfellow with a face full of proud.
The Dual-option Recruitment Fair has ended successfully. Students of 2018 will begin their first trip of internship in August this year. Wish everything goes well.
Graphic Source: Feng Rui from Practice and Employment Guidance Center
Zhang Zhili from Student Development and Service Center
Media Association and Propaganda Department of CCYL Committee Press Corps of the Institute
Li Yueping of 2017
Liu Xinyu of 2018
Photos and text collated by: Gao Yan and Meng Huanyu from News Center