24 Universities Gave Helping Hands to Students Inclined to Study Abroad on the 2019 BHI Open Day
On October 15, 2019 BHI Open Day was successfully concluded. 24 universities from 9 countries around the world provided face-to-face consultation and information sessions covering course system introduction, application process, visa application and language training. The Open Day of this year made an innovation of setting up the process of on-site application. Some universities have brought other high-quality professional programs besides the major of hotel management, which provide more choices for students who need to further their study after graduation.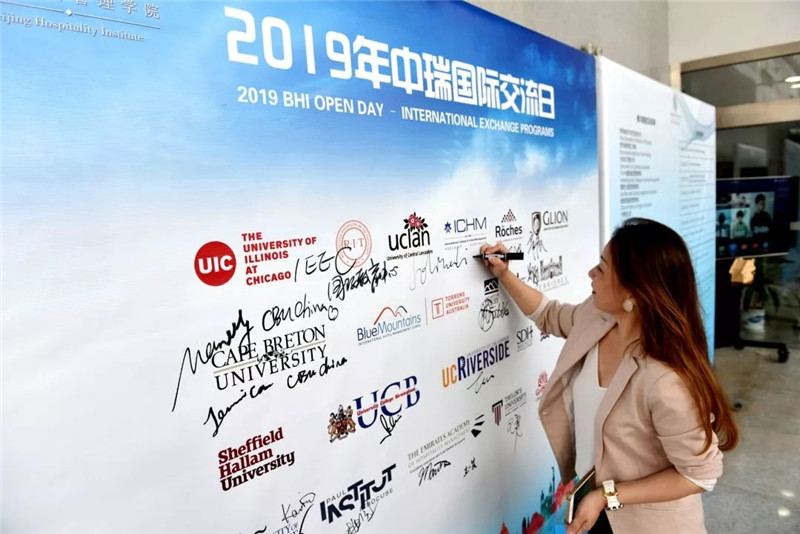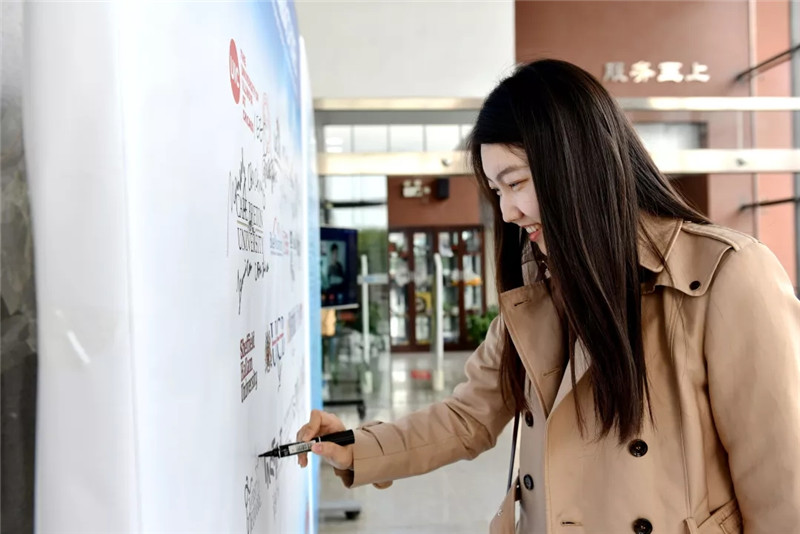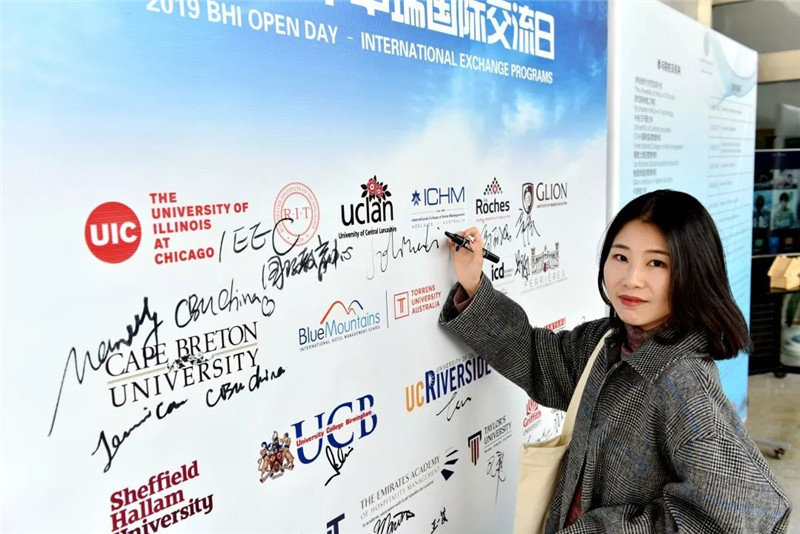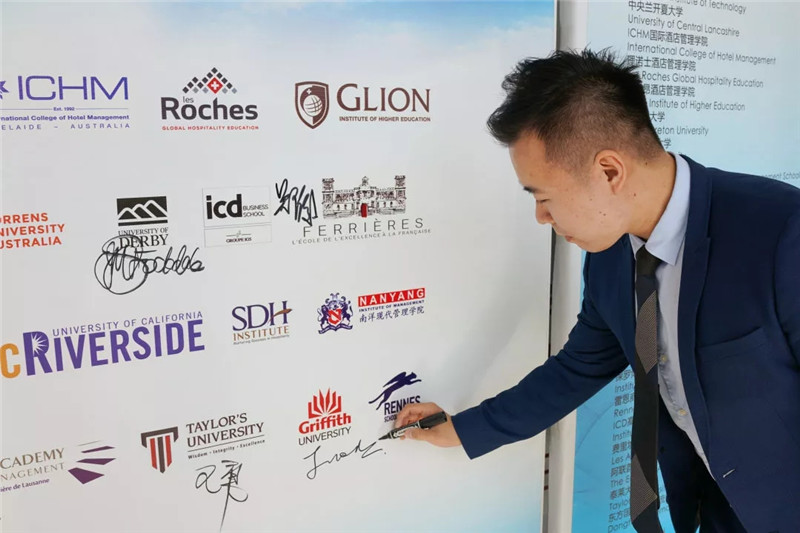 Representatives of the universities left signatures for memory
Face-to-face Consultation
On the Open Day, BHI students dressed in business suits came to the venue very early to queue for consultation, take materials, fill in information, and seriously communicate with the representatives of the universities. Some universities only sent foreign teachers for the activity, but BHI students can communicate with them in fluent English. In addition to students, there were also parents of students on the site, who carefully checked the relevant information of the schools and actively communicated with the teachers from their favorite schools. Parents said: "I have always wanted to send my children to study abroad, but I just didn't know the information. Today, I learned the information about studying abroad of so many universities at one time. It's really a worthwhile trip!"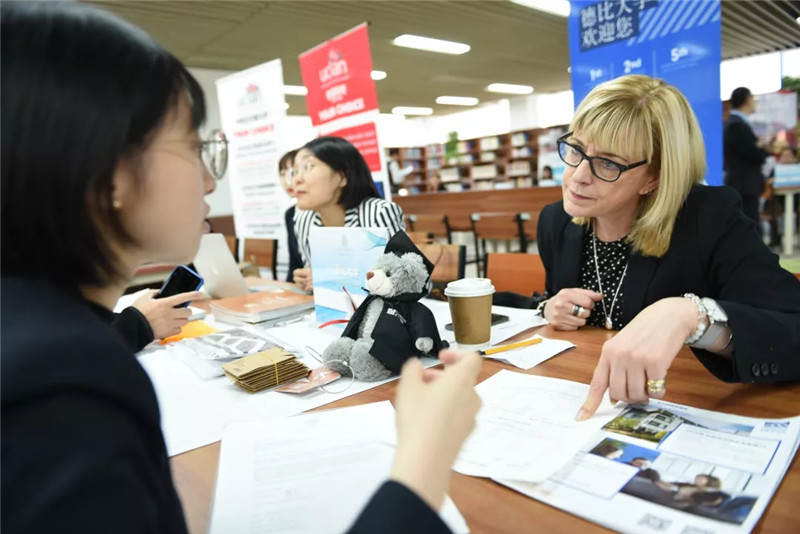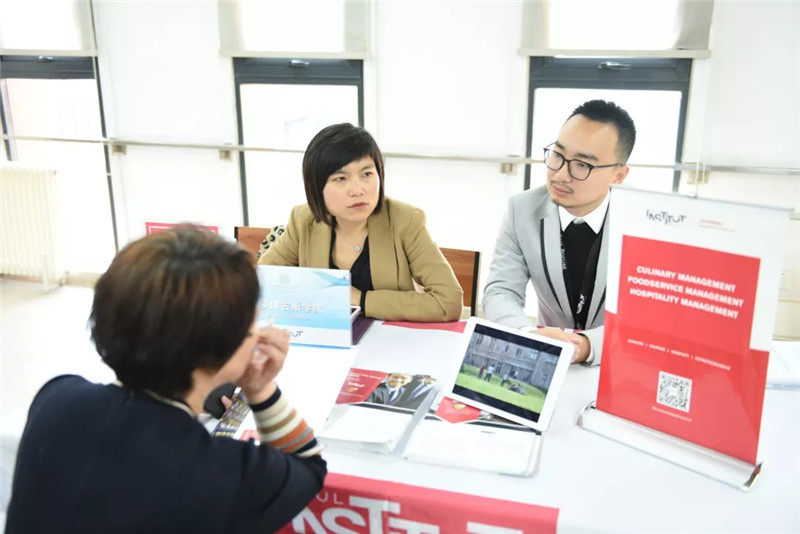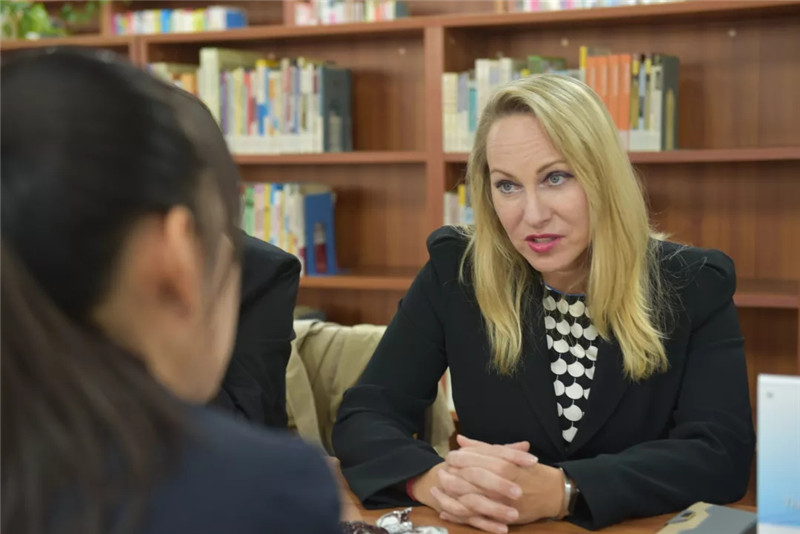 During the communication, representatives of the universities patiently answered various questions from students and their parents, and even offered small gifts to students who raised valuable questions. After communicating with the students, the representatives also delivered effective feedback to BHI teachers in the international exchange center, and proposed to implement trials of some valuable projects.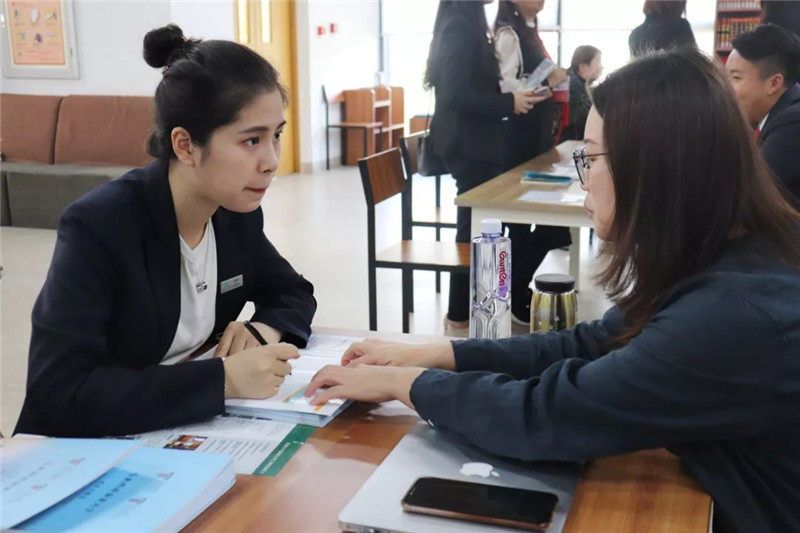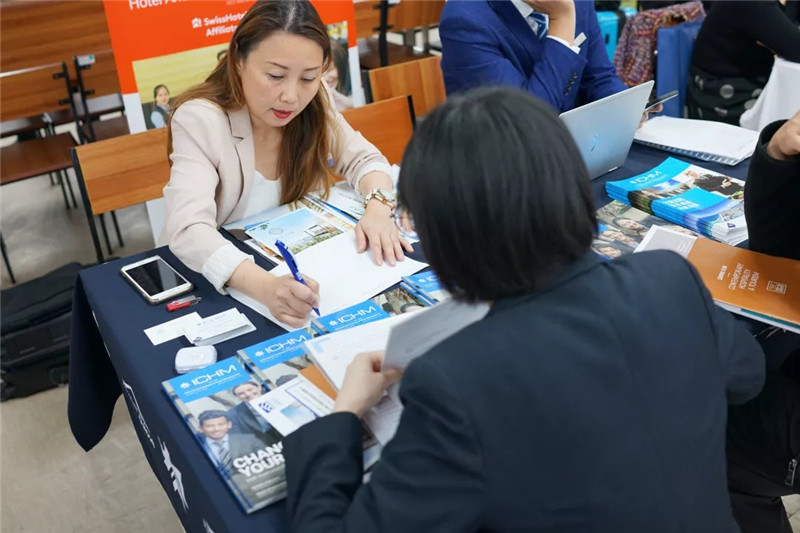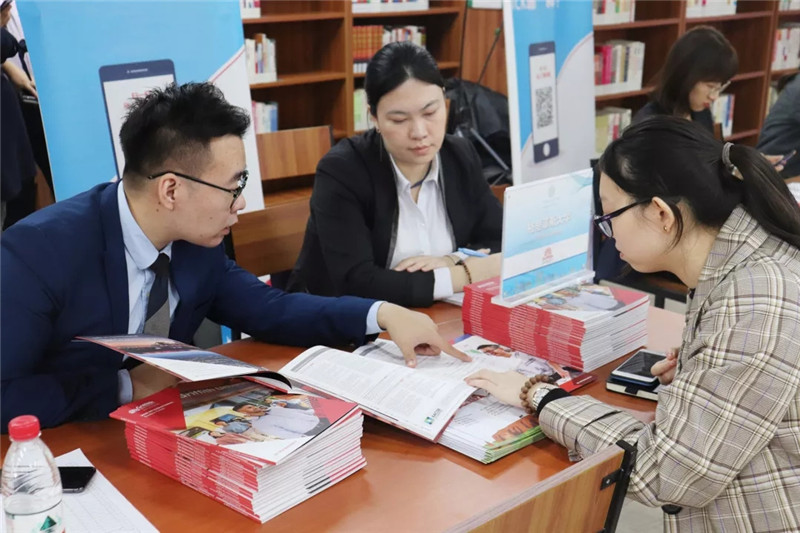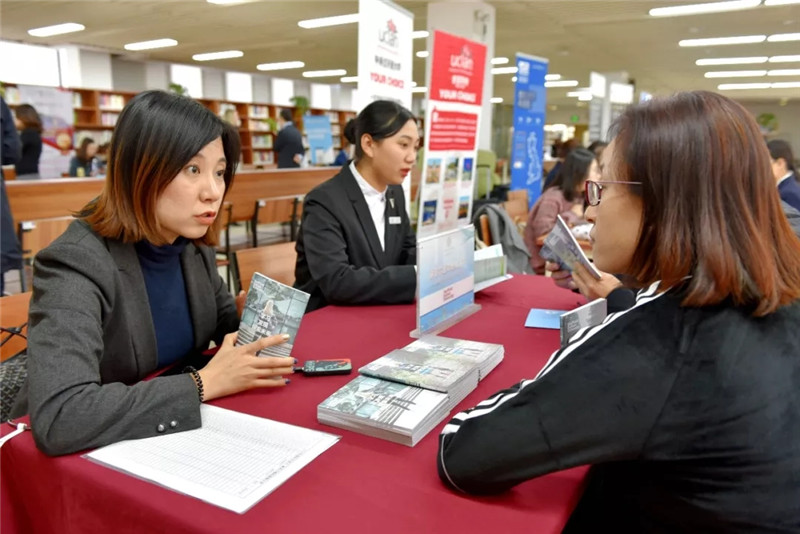 At the consultation site, Guo Ruihuan, Director of Business Development Department of BHI, and Hu Xiuying, Director of the International Exchange Center, exchanged information about the study abroad programs with representatives of the universities, and learned about the consultation of students from them.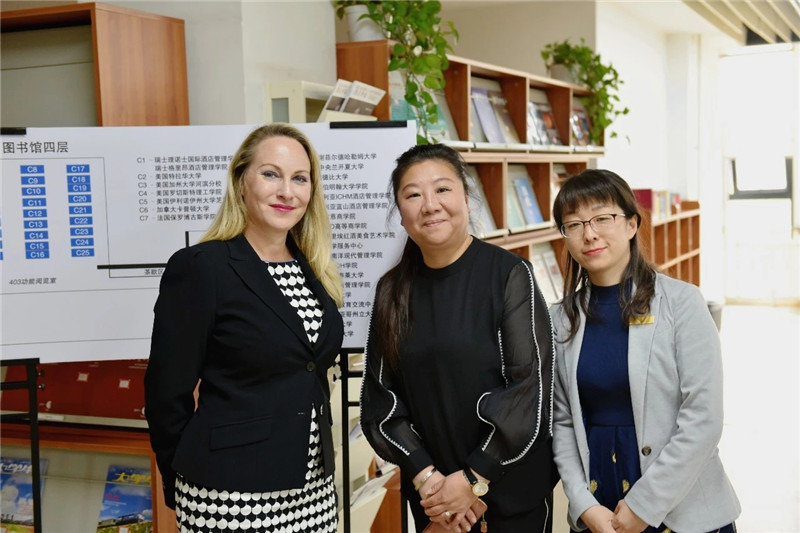 Ms. Marina Rizzi, director of Industry Relations and International Office of the Emirates Academy of Hospitality Management,
Guo Ruihuan, director of Business Development Department,
Hu Xiuying, director of the International Exchange Center
Information Sessions of the Universities
In addition to the on-site consultation, 17 universities prepared information sessions for students from BHI. In their presentations, they showed highlights of their universities, systematically introduced their respective project advantages, and gave detailed answers to students' questions on course system, application process, visa application and language training.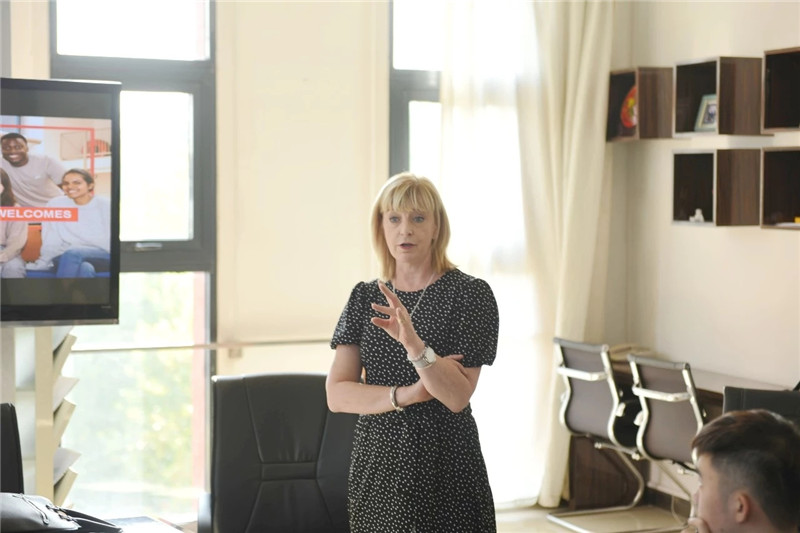 Isobel Stockdale, Deputy Head of Hotel, Resort & Spa Management, University of Derby, UK, personally participated in the presentation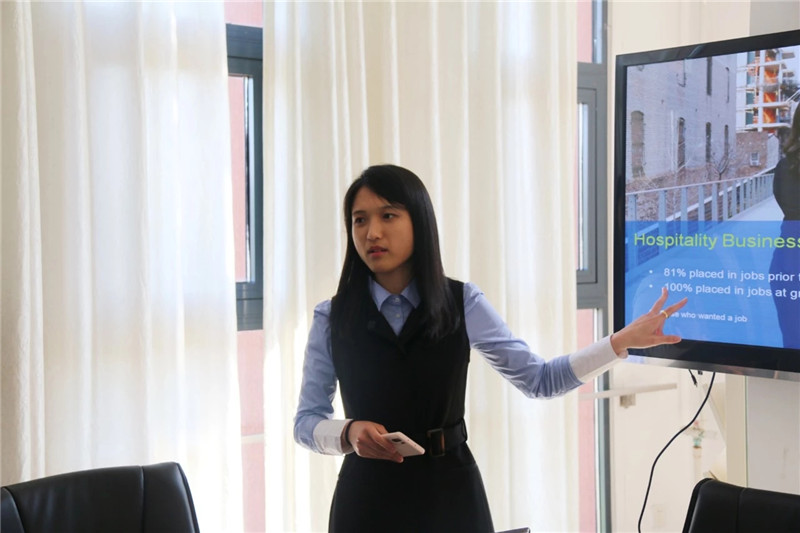 Information session of University of Delaware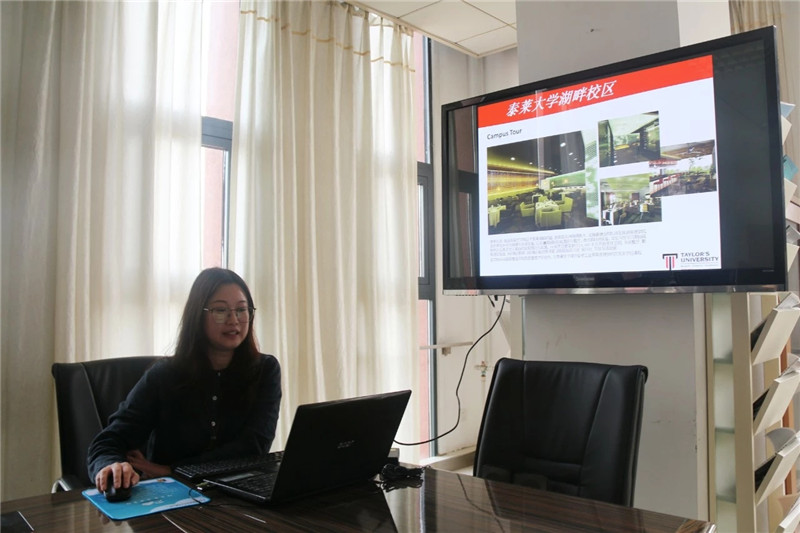 Information session of Taylor's University
A quick look at the advantages of some universities:
"This year, we will organize BHI students to participate in a visiting activity in France. During the period of visit, we will invite the director of Hermes to give them a lecture and arrange in-depth tours to famous scenic spots in Paris for them. Our coordinator will lead them to visit castles, wine cellars, hotels and restaurants to lay a good foundation for their further study abroad. At the end of the program, with a lunch together, we will invite some big names of top French luxury brands to share their experience with the students and offer detailed guidance to them in the field of real work."
-- Ferrier Food and Wine Art Academy, France (Les Ateliers Ferrières)
"ICHM is a very young school, but just in the past 26 years, 52 students graduated from our school have become general managers. On average, 2 gerneral mangers come out of our graduates. This is an advantage of our program and it is worthy of the attention of BHI students."
-- International College of Hotel Management (ICHM)
"We plan to give BHI students more preferential policies on tuition fees. In the past years, nearly 100 students from BHI participated in our exchange program. Now we are willing to send students from the United Arab Emirates to come to BHI to experience the characteristics of Chinese Hotel Management."
-- The Emirates Academy of Hospitality Management
"Taylor's University is a comprehensive university and the school of hospitality management and business is the best one academically in our school. At present, we have reached the 14th place in the world and the 2nd place in Asia. In addition, you can get two diplomas in the master program of hotel management. One is a master's degree from Taylor's University in Malaysia, and the other one is a master's degree from Tulus University in France."
-- Taylor's University
"With a PhD program in hotel management already in place and some of the world's top revenue management academics on the faculty, academic quality is our biggest advantage."
---University of Delaware
"We can offer 3+1 undergraduate double-degree program and 1+1.5 year undergraduate and master degree program to BHI students in the major of hotel management."
-- Institut Paul Bocuse
"The bilingual MBA program is one of our biggest features, and the fact that students can get a three-year work visa after graduation if admitted with the pass of the internal test is still our biggest attraction. In addition, a number of BHI students have been awarded admission scholarships for their outstanding academic performance. Senior BHI students are waiting for you at Cape Breton University."
-- Cape Breton University, Canada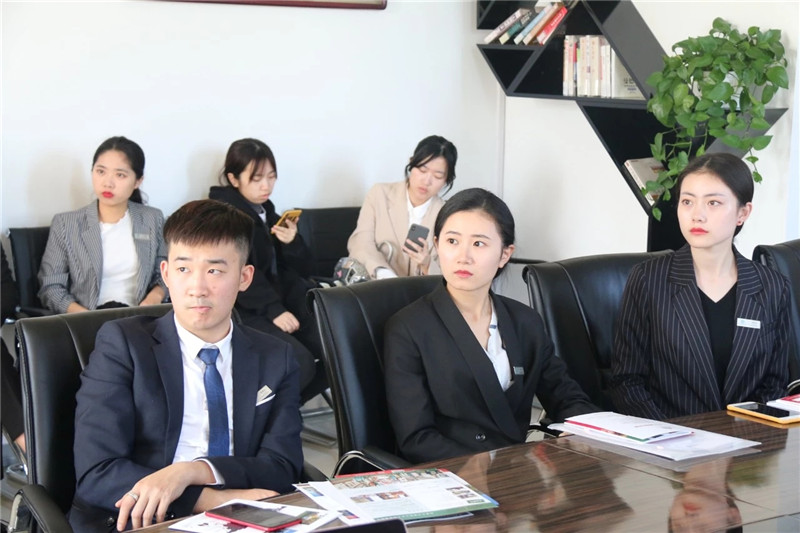 BHI students were listening carefully to the presentation
About BHI students, the representatives of the universities said:
"We really appreciate the temperament and professional dress of the BHI students. The reception of the volunteers today was very orderly. Students here all have their own thoughts about hotel management. Like BHI, we have devoted all our energy to the major of hotel management, constantly improving our teaching level and our position in the hotel management industry. The cooperative 2+2 program by us and BHI includes one-year's study and one-year's paid internship. We are willing to offer the best internship opportunities to students from BHI and provide generous scholarships for them. In addition, we will reduce the corresponding language learning fees according to students' different IELTS scores."
-- Blue Mountains International Hotel Management School, Australia
"Students from BHI have gone through a very professional, detailed and comprehensive curriculum system, so they are more independent and have a wider academic background than other students."
-- University of Central Lancashire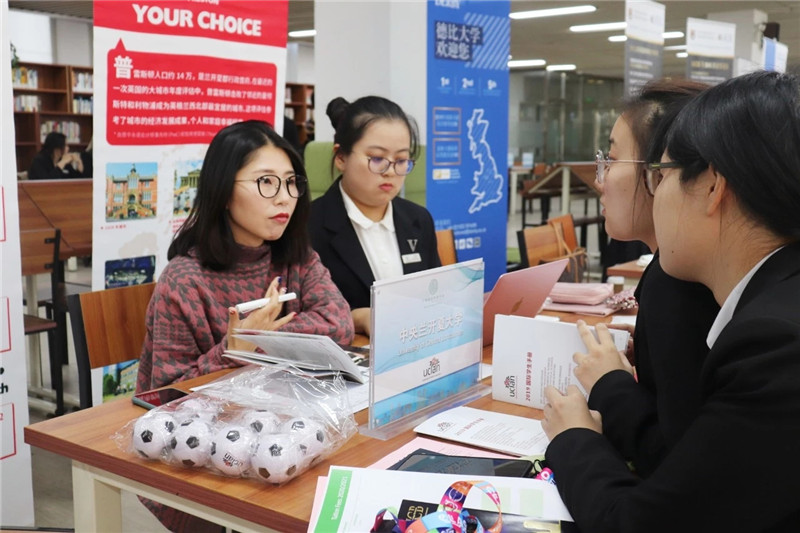 BHI students were consulting carefully with the representative of the University of Central Lancashire
About the Open Day, BHI students said:
"Through today's information sessions, I have learned about the development process, course system and employment status of many universities. My favorite university needs a relatively high IELTS score. In the future, I need study both the professional knowledge and English well to move towards to my goal!"
---Wu Yue
"I think every school has something that appeals to me, such as their learning environment, faculty and teaching model. I prefer SDH Institute in Singapore, where I can obtain two master's degrees from two schools at the same time. Although the IELTS score is relatively high, it also gives me more motivation to study."
---Liu Ying
"I had the idea of going studying abroad before, but I was not very clear about the process. Though this activity, I have got a better understanding of the way to study abroad. After listening to the presentations of some of the colleges and universities, I have found a general direction of going abroad in the future. I am grateful to BHI for building such a platform for us, so that we can communicate with the universities face to face and have a more intuitive understanding and cognition about studying abroad."
--- Liang Jiaxin
BHI students were communicating
On the Open Day, a total of 34 student volunteers provided volunteer services for guests from the universities. The students' serious work attitude and professional business reception skills were highly recognized by the representatives of the universities.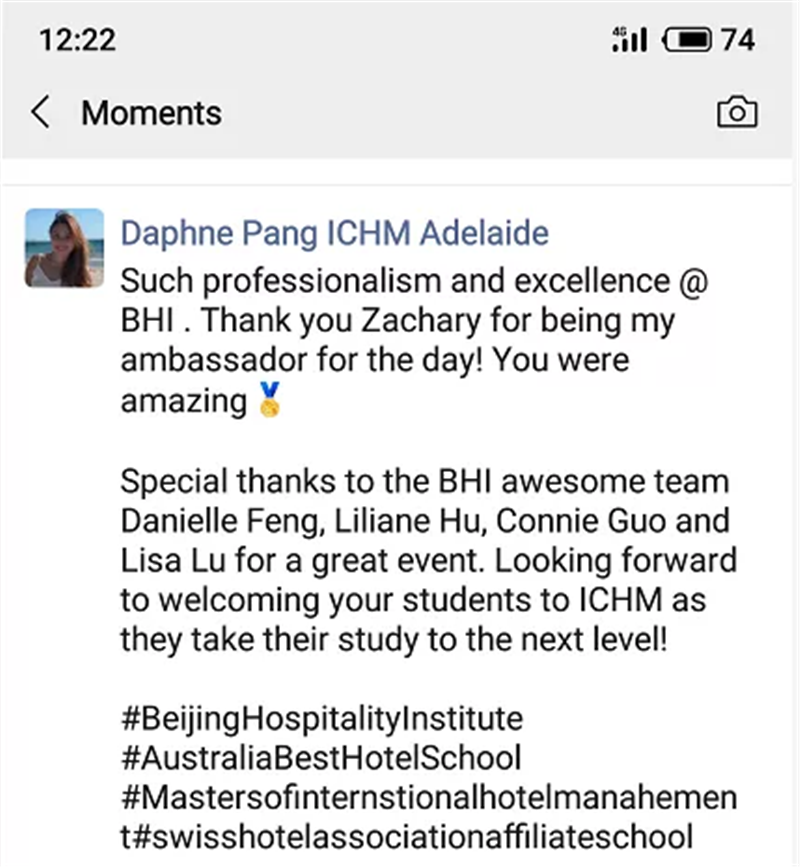 Moments Screenshot of Daphne Pang, director of marketing and enrollment in China, ICHM (International College of Hotel Management)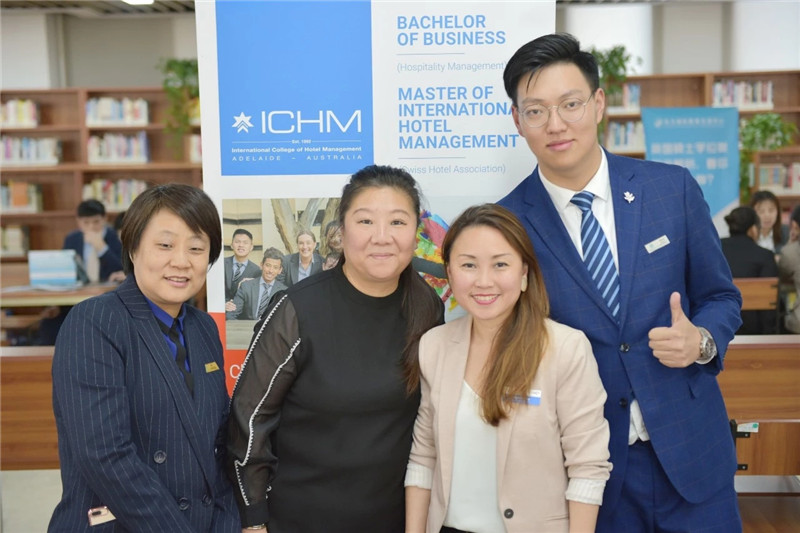 From left to right: Lu tong, deputy dean of Academic Affairs Department of BHI, Guo Ruihuan, director of Business Development Department, Daphne Pang, director of marketing and enrollment in China of ICHM (International College of Hotel Management), and Zhou Yuchen, a volunteer student from grade 2019
This Open Day provides students with a large amount of valuable reference information about studying abroad and broadens their international view. In the future, the teachers in the International Exchange Center of BHI will continue to deepen their efforts in the field of overseas study programs and create more high-quality international exchange programs for teachers and students.
Photo: Zheng Beixing, Bai Hao, Song Chunmeng and Yan Xiaozhenng, School Press Corps;
Text: Zhou Yuchen, He Zxiaoxi and Zhang Kexin, School Press Corps;
Feng He and Quan Wei, International Exchange Center
Layout: Gao Yan, News Center
Coordinating editor: Gao Yan, News Center
Submission email: news@bhi.edu.cn