Show BHI teachers' specialties, promote teaching quality to improve: BHI 4th teachers' Teaching Skills Contests has been successfully concluded
In order to further strengthen teachers' basic teaching skills, carry on the 5H concept of BH, promote teachers' professional development, and provide a platform for teachers to learn from each other, Faculty Development Center organized BHI 4th teachers' Teaching Skills Contests on December 24th.
After nearly six months of preparation, the contests passed a comprehensive evaluation of teaching design, teaching research and supervision evaluation, Wang Dejun, Wang Yemei, Ma Yi, Song Gang, Fu Yuanyuan, Song Yingjie, Yi Minnan and Wang Huifang these eight teachers entered the finals. BHI president Dr Gao attended the contests as the special guest. Dean of Academic Affairs Department, Mr Xu Longyang and Ms Lu Tong, other six expert judges and eight excellent student judges formed professional jury and gave the comprehensive evaluation to the teachers.

Message from BHI President
President Gao Songtao cheered on the participating teachers
President Dr Gao songtao cheered on the teachers before the contest. He taught all the teachers earnestly that the key to being a qualified teacher is "teacher's morality". On this basis, the teachers should constantly improve teaching level, innovate teaching skills, enrich teaching content, promote teaching by contest, and make common progress.
Some of the participating teachers showed their elegant demeanor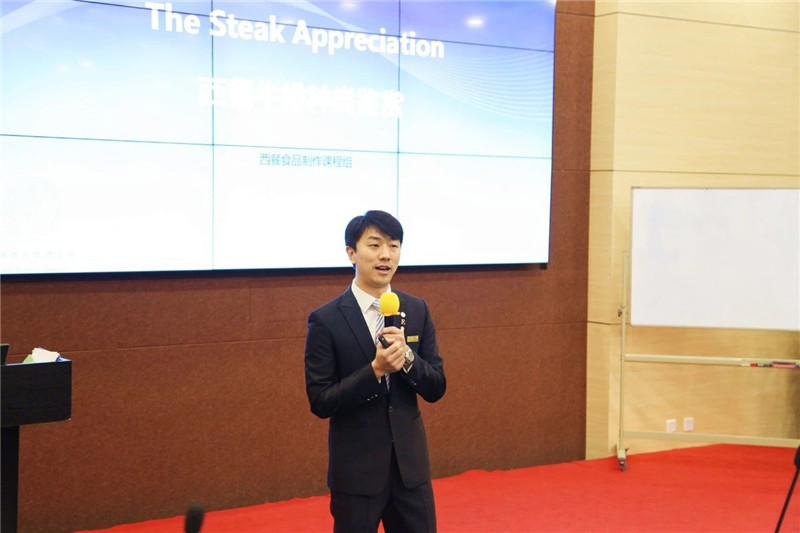 Mr Wang Dejun, teacher of F&B Service Office share appreciation skills of western steaks
Mr. Wang Dejun from F&B Service office has rich experience in the hotel industry. His lectures are lively, humorous and full of passion. In the competition, he was the first to go on stage, full of energy for everyone to popularize authentic western steak appreciation skills.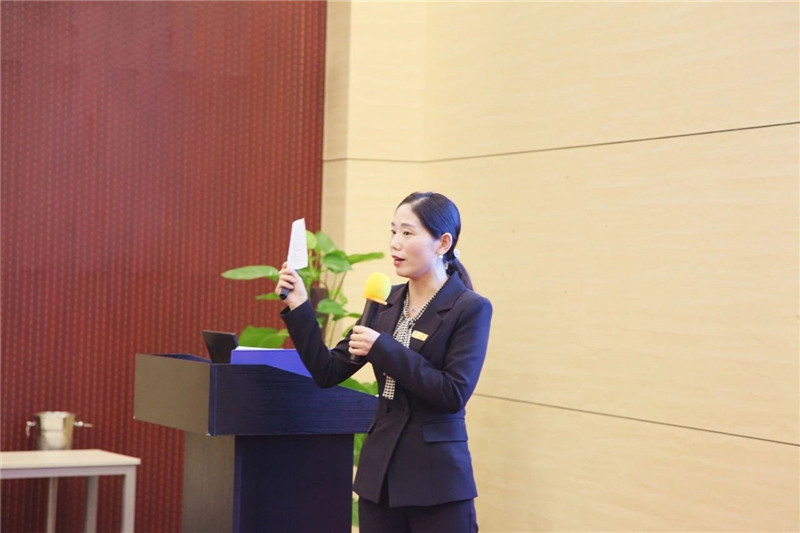 Ms Fu Yuanyuan, teacher of Foreign Language Office explain the key techniques for Taking Orders
Ms Fu yuanyuan, teacher of Foreign Language Office, has been recognized by experts and student judges for her gentle and meticulous teaching style. Ms Fu is good at highlighting key and difficult points and using information technology reasonably and effectively. In the lecture, students learn the key technique of Taking Orders intuitively through micro-lectures.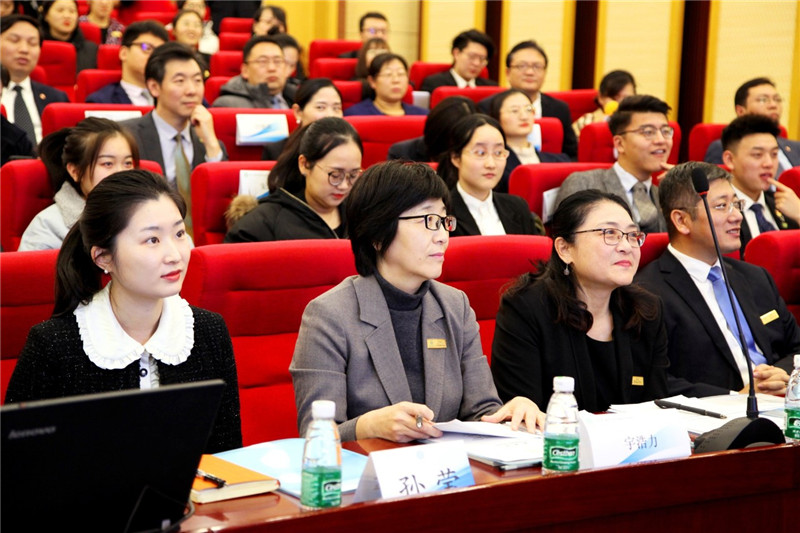 Panel of Judges who evaluated carefully
After nearly three hours of wonderful lecture shows, the participating teachers, with different teaching styles, from different perspectives, from theory to practice, inspired other teachers' teaching enthusiasm, and fully demonstrated their own elegant demeanor. Under the funny and humorous hosting of the two hosts, Ms Xu shanshan, Head of Finance and Investment Office, and Mr Jiang Jiagang, Head of Foreign Language Office, the atmosphere of the contest was fantastic and the applause was long and loud.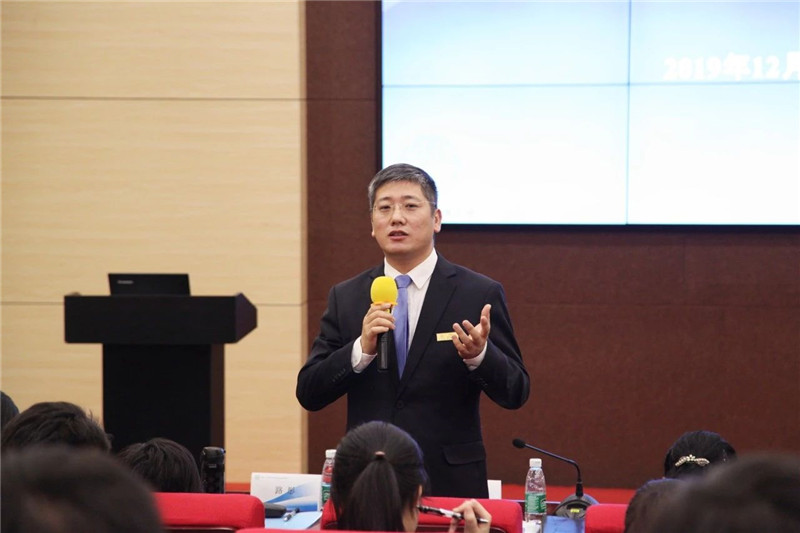 Deputy Dean Mr Xu Longyng made a summary speech
At last, Deputy Dean of Academic Affairs Department, Mr Xu Longyng made a summary speech. He fully affirmed the rich and varied teaching forms of the participating teachers and encouraged the teachers to innovate in teaching contents, teaching methods and teaching methods. He hopes all the teachers can not only make the teaching method easy and humorous, but also constantly explore and reflect on the teaching content. At the same time, teachers should help each other, constantly improve teaching skills, and contribute to the developing of high-level management talents in the hotel industry.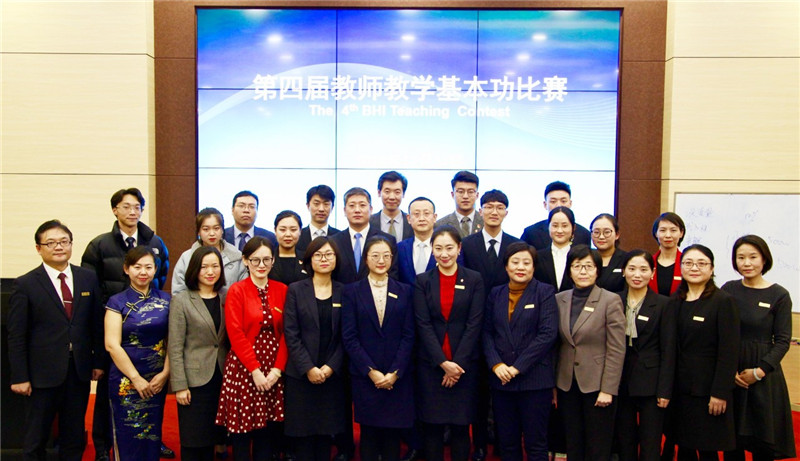 A group photo for memory
Photo: Zhang Zhili, Students Development and Service Center
Text: Zhang Xu, Faculty Development Center
Typesetting: Meng Huanyu, News Center
Editor: Gao Yan and Meng Huanyu, News Center
Email address: news@bhi.edu.cn