English Corner in BHI – Teachers and Students Talk "Easter" Online
In this beautiful season of willow, spring and sunshine, we welcome the annual western festival – "Easter". Although affected by the COVID-19, everyone couldn't get together to celebrate the festival, Foreign Language Office of Academic Affairs Department held an "online English corner" on April 13. According to the learning and communication, BHI teachers and students felt the Easter atmosphere.
In order to let everyone really know and understand the western Easter culture, Simba, the foreign teacher of Foreign Language Office, shared the Easter customs of Zimbabwe for BHI teachers and students. Simba introduced the historical origin of "Easter", the status of traditional festivals in African countries and the customs of Zimbabwe, etc. The rich content and humorous style of explanation aroused the students' strong interest.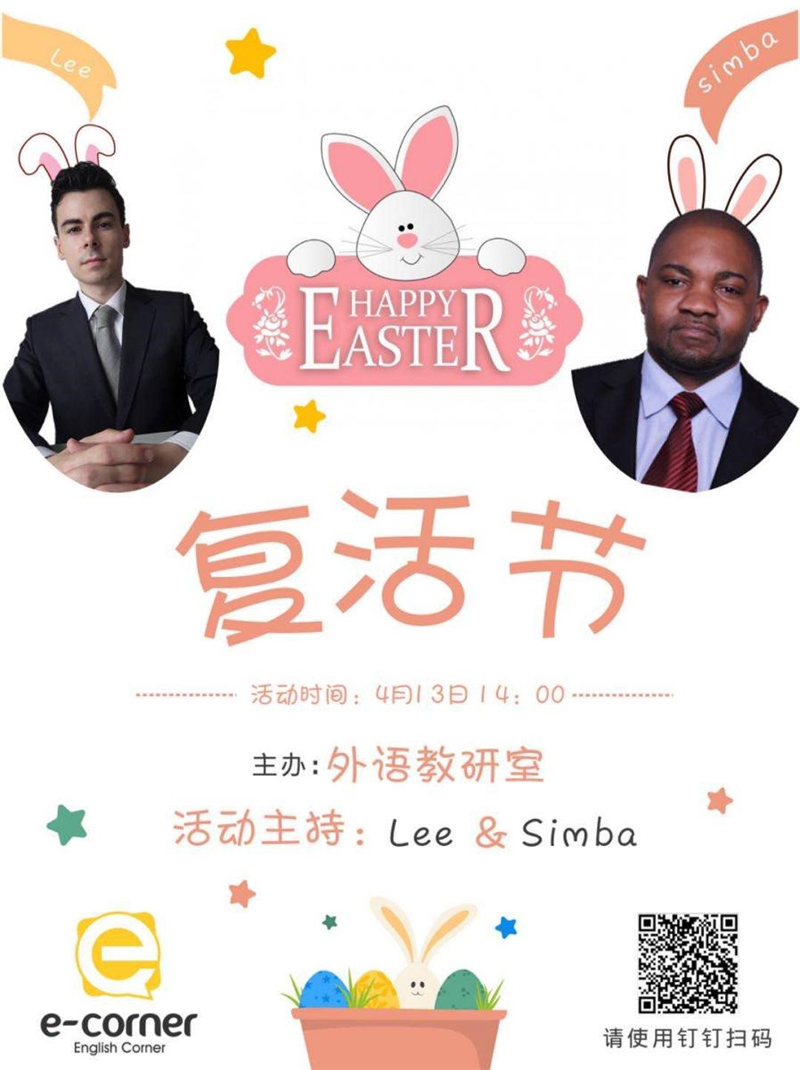 In the interactive session, the teachers and students held heated discussions on the topics of "the similarity between western Easter and Chinese traditional festivals", "the most interested content in Easter" and "Lent", etc. The students were eager to speak up and express their views in English. The students' humorous ideas make the teachers and other students laugh constantly, and the online communication atmosphere is active.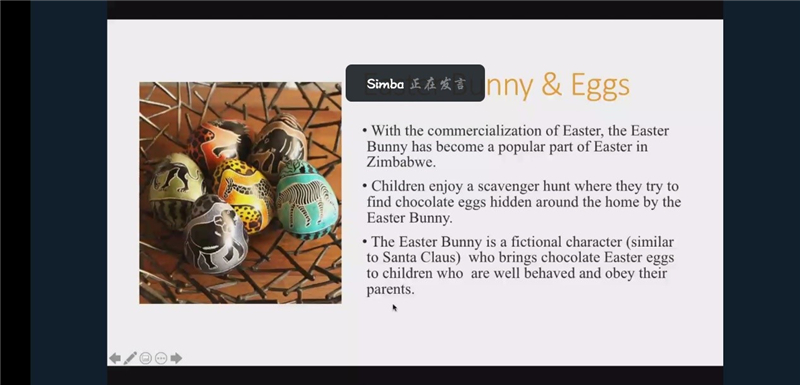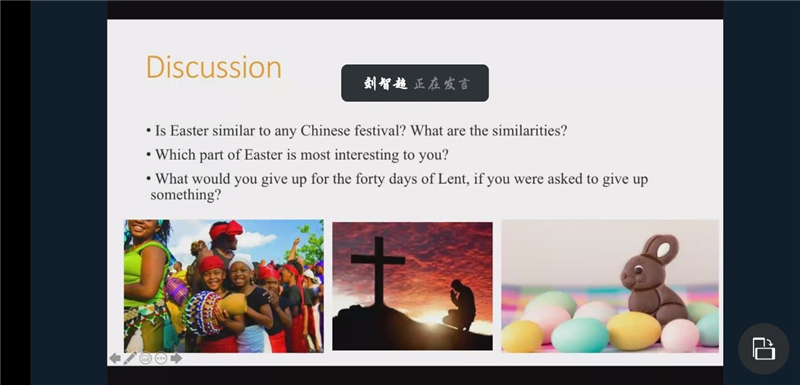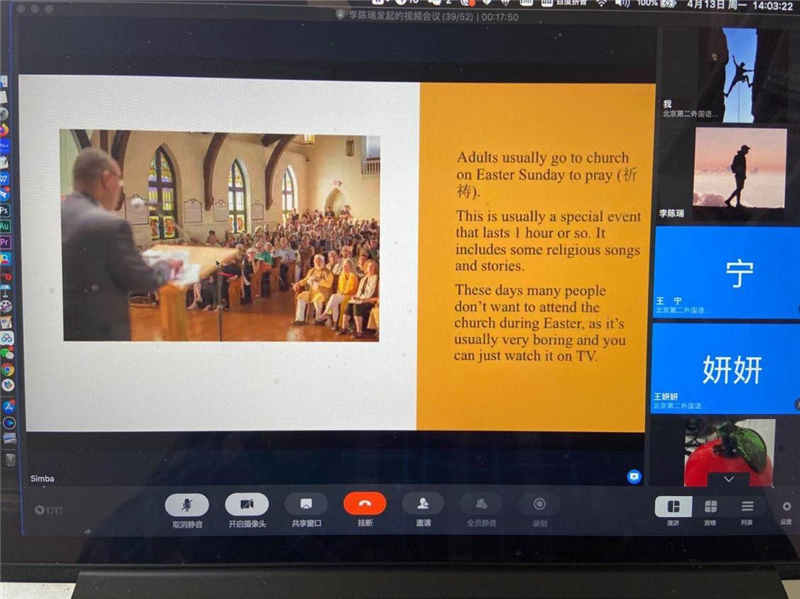 After the activity, most of the students sent messages to the teacher about their feedback. They recognize the creativity of this English corner. All the students could freely use English to discuss and expressed their own ideas. These increased their knowledge, widened the field of vision, and at the same time exercise their oral expression ability. All the students hope there will be more similar activities.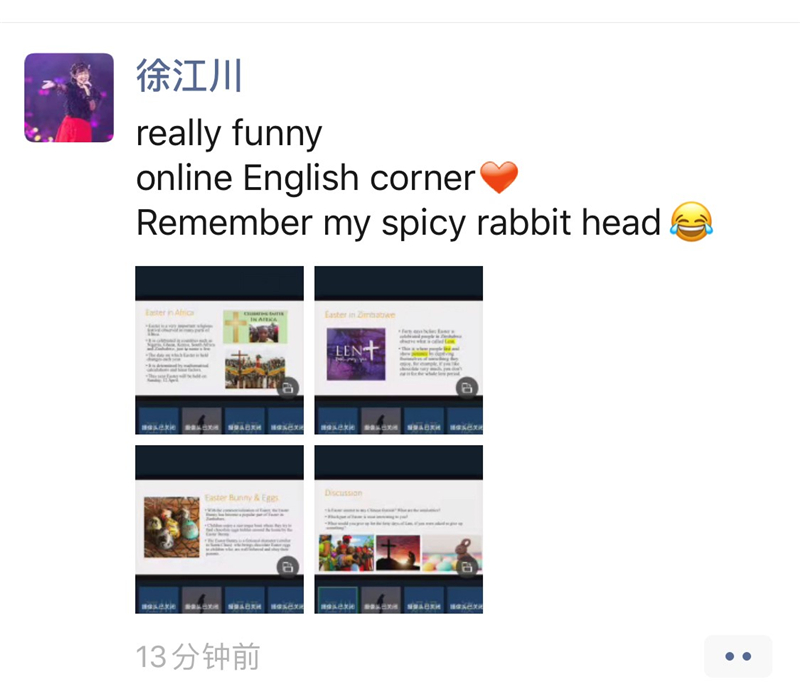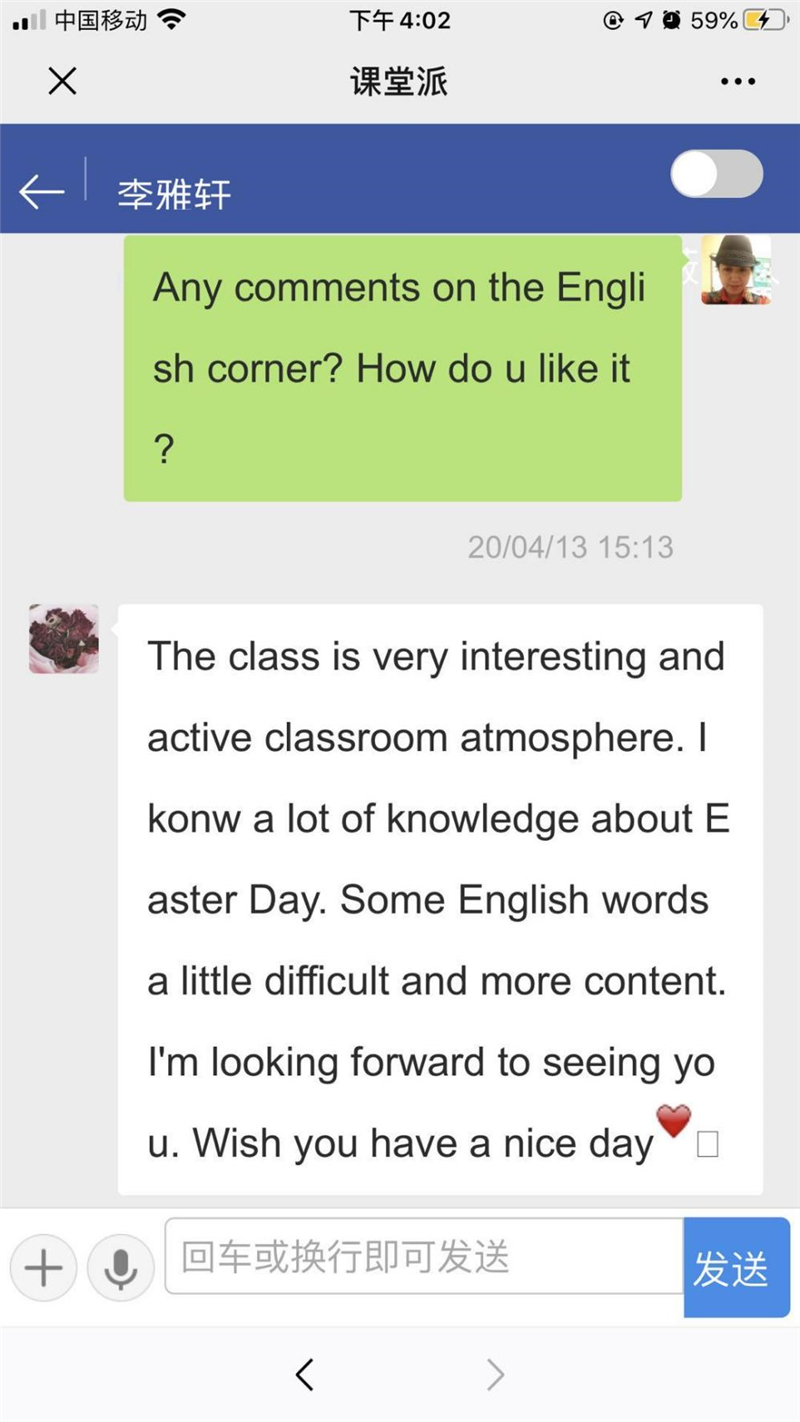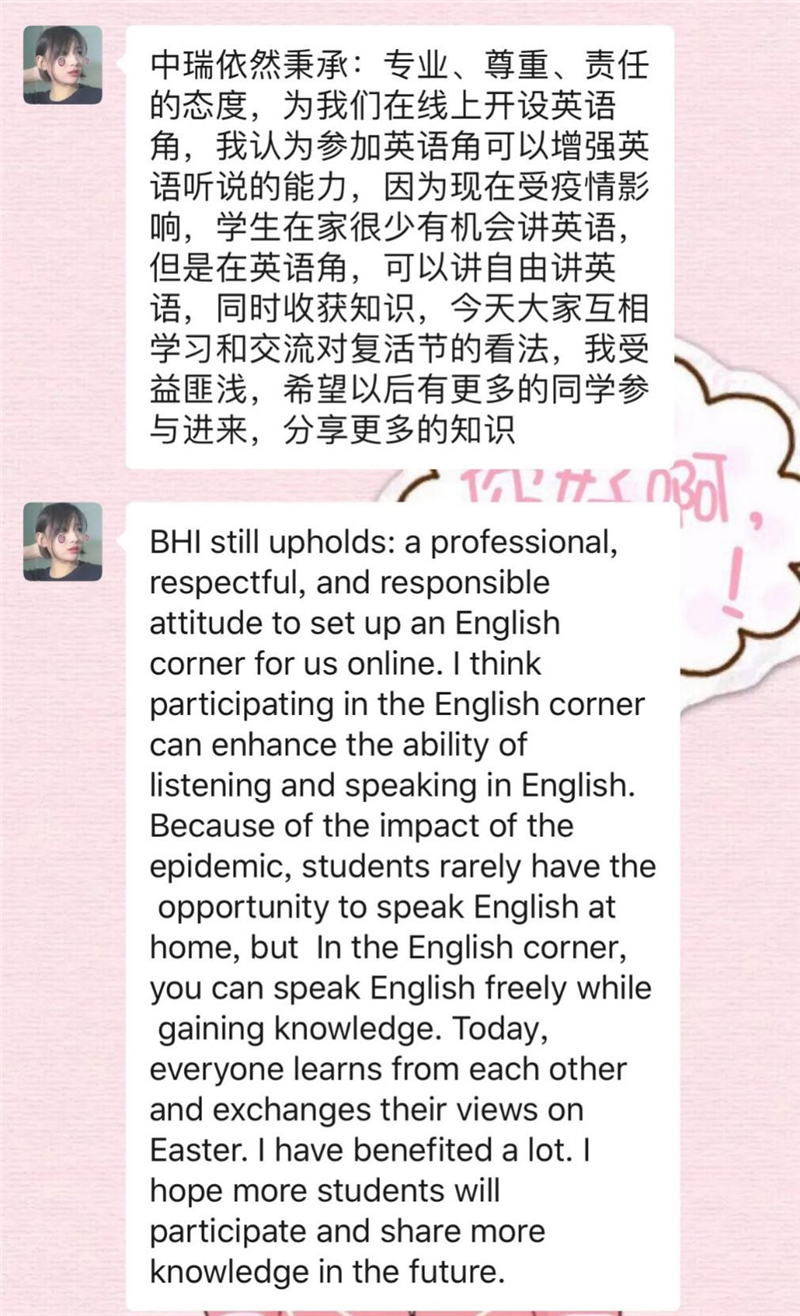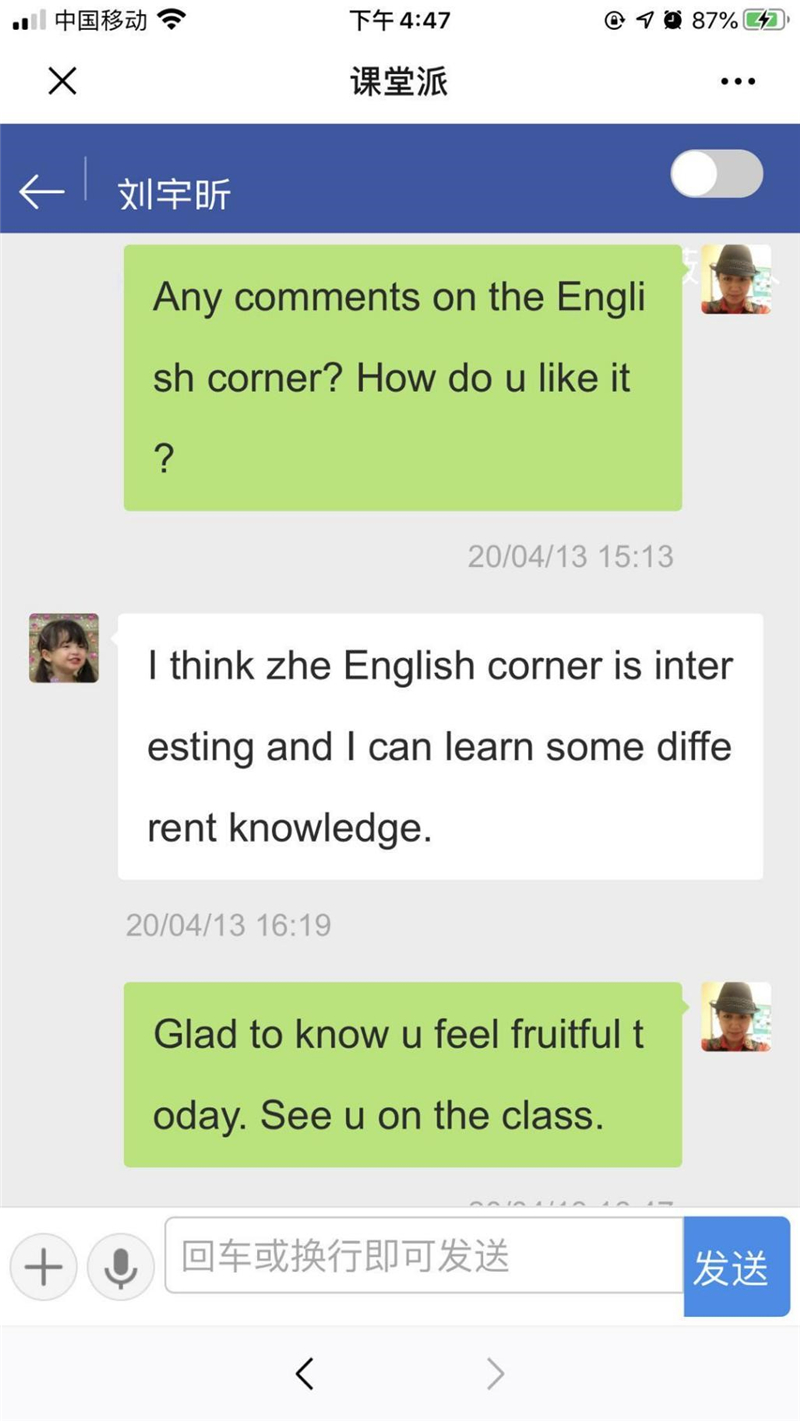 English corner in BHI always aims at improving students' oral English skills. And the students' progress is a great motivation to hold the English corner. In the future, Foreign Language Office will continue to broaden our thinking and brainstorm our ideas to create an English corner with BHI characteristics for all teachers and students. Whether online or offline, we are looking forward to meeting you again next time!
Text: Li Chenrui, Foreign Language Office
Photo: Foreign Language Office