Life in Buxton: 2019 UoD Educational Study Programme
After a long fly, we landed in Manchester on 7 January. Faculties and students ambassadors holding BHI Logo welcomed us at the airport. Their smiles brought comfort to all of us who felt exhausted of the long flying hours.

Life in Buxton: Never worry about anything.
After arrival at the High Peak Halls where we spent the following days living in, everyone got a good rest in his own room.
Our Room
We found the gifts from UoD as soon as we got in the room.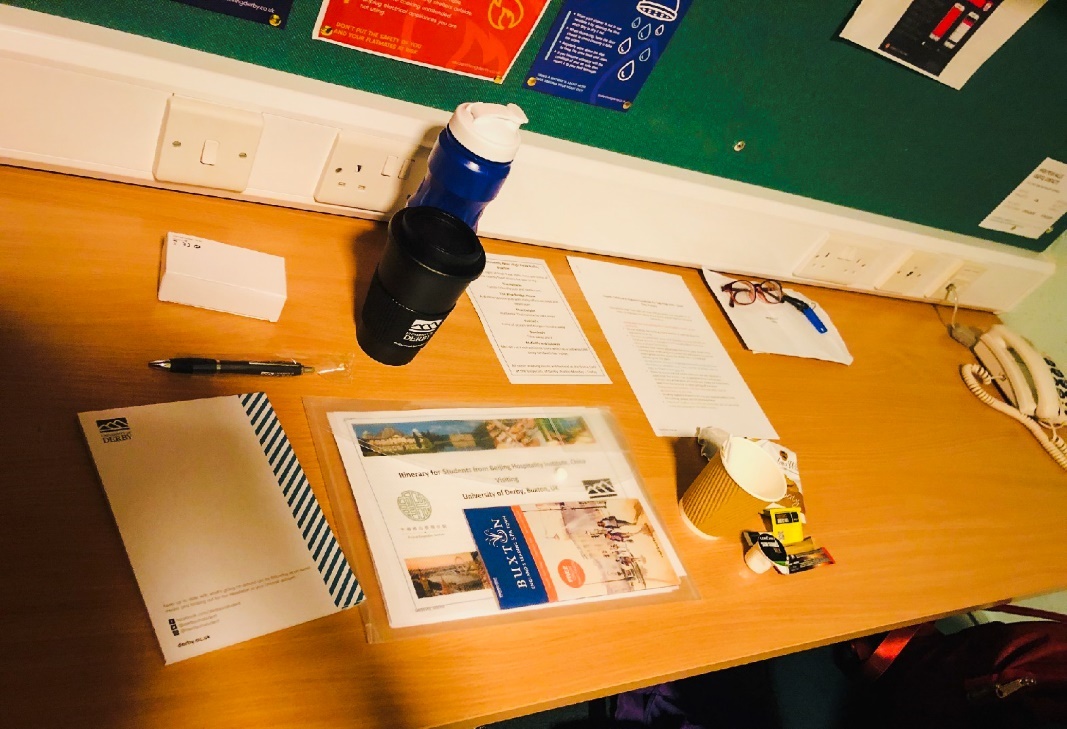 Gift Package: Power Bank, Pen, Coffee Mug, Sport Bottle, Notebook, Eating Establishments Near High Peak Halls, Buxton Town Guide and so on
Way to School, Always with Fresh Air
It took your no more than 15 minutes from High Peak Halls to Devonshire Dome on foot. If you are faster, you can make it 10. Some of us would take the broad way by the train station, while some of us(High would choose the way along the shops and restaurants.
We had breakfast, lunch and dinner in Dome from Monday to Friday.
Breakfast
Dinner
Orange juice, English tea, coffee, milk, oatmeal, scramble eggs, hash brown, bacon, sausage…those were the options for our breakfast. What we like most was the croissant.
To take care of our Chinese stomach, UoD prepared some Asian style dishes for our dinner.
Ground Floor of the Dome
After class, we usually gathered on the ground floor of the Dome for lunch. All the snacks, drinks, desserts and dishes could be assessed by the visiting cards UoD gave us.
Day 1, UoD ambassadors started to "promote" themselves to us. All five groups found their ambassadors.
After the self introduction, they brought us to walk around several famous places of Buxton and patiently telling all stories about the town. In the following two weeks, it's them who made no effort to help us with our group work, and daily entertainment of course.
We Walked in Beauty
Opera House
UoD's welcome dinner was also unforgettable. All faculties who would deliver lectures to us join the dinner. We had wonderful talks with them.
Who served us are also UoD students.
Not enough for dinner?
We cooked!
What was worth mentioned was the safety management of the kitchen. It really made us feel safe.
How to build a strong group? Out for meals!
News on Study in UoD is to be updated.
By Allen Dong, May Jia, Imily Liu, Matthew Ge, Liana Li, Danielle Feng