My Life in NAU: From Scholarship in BHI to Dean's List in NAU
BHI Scholarship holder, NAU Scholarship holder, entering Dean's list for four times, getting a work placement in Montage Deer Valley… Look what she got from 2+2 dual degree program. Wang Xinrui, enrolled in BHI in 2015, successfully applied for the dual degree program between BHI and NAU (Northern Arizona University). Let's listen to her story in two universities.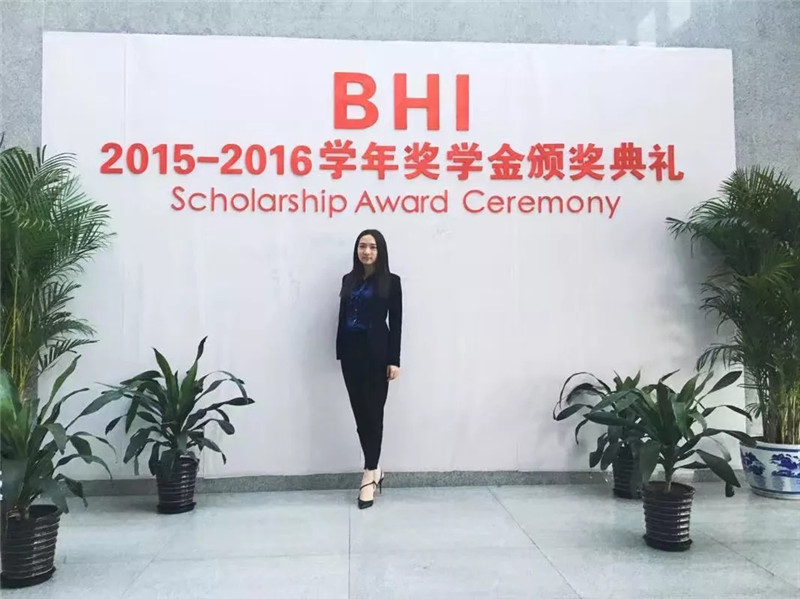 Wang Xinrui on BHI Scholarship Award Ceremony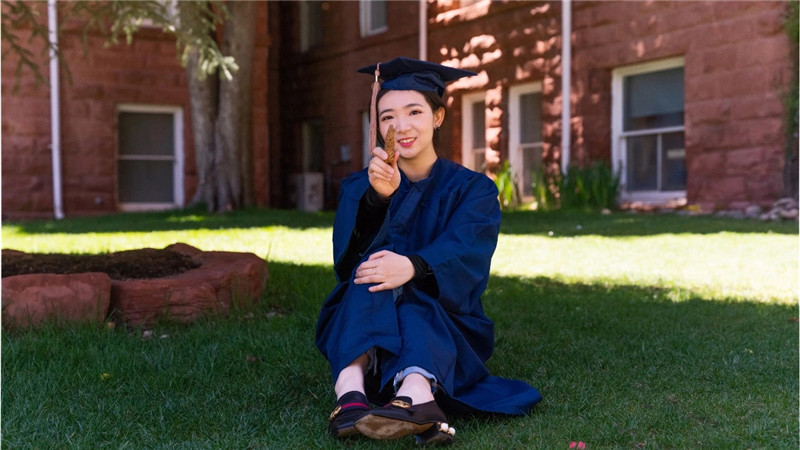 Wang Xinrui in Northern Arizona University
In BHI: Set a goal and go for it!
Q: Why do you choose to study abroad?
A: After the first term, I set my goal of going abroad, to push the limits of my desires and get to know things. I wanted to apply for postgraduate program in the first place, but I was afraid that I could not adapt to the courses. Thus, I aimed for the dual degree program.
Q: What preparation did you do?
A: I prepared IELTS when the second term started, especially my speaking English. I heard some of my classmates said that GPA in BHI was not important if you chose to go abroad. However, it does matter if you have further education plan after graduation. That's why I tried so hard on improve my GPA in BHI.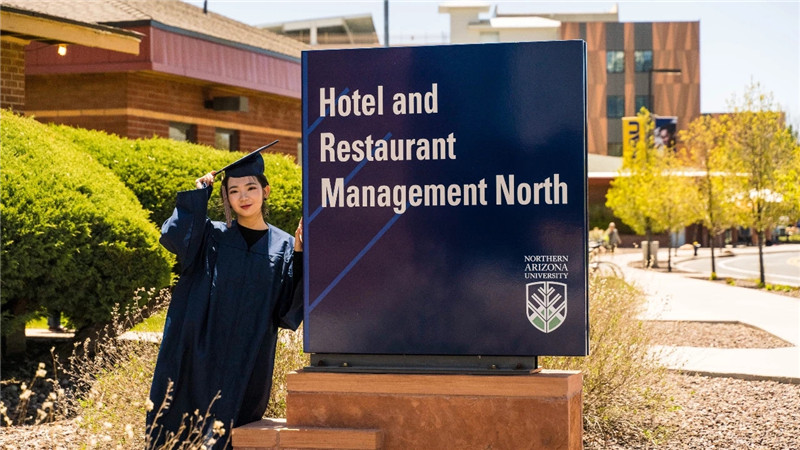 Wang Xinrui Graduated from NAU
In NAU: Face the challenge and seek help.
Q: Did you meet any difficulties after you went to US? How did you find the solution?
A: I did find some difficulties. What I could do were previewing and reviewing. I always grabbed the lecturers to ask questions. He must find me someone annoying (lol). Meanwhile, I checked with Study Center which offered me free academic instruction. I was still in connection with an international student working there and discussed with her. In group work, local students were always my first choice, since they could fill in the blank of the information that you were not able to understand.
Q: How did you feel like NAU's curriculum? Which course was your favorite?
A: It took me two months to get a thorough understanding towards all courses. Thanks to the foundation courses which allow me to revise easily. The reading list was so long that I paid much attention to it. My favorite course is Accounting, though it's one of the most tough ones in The W.A. Franke College of Business.
Q: What's your key to enter Dean's List?
A: If you got lots of A, you can enter Dean's List. I checked my transcript and found I might have the chance to go for scholarship so I just submitted the application. Luckily, I successfully got the scholarship twice.
Wang and Her Local Friend
Internship: Always keep connection and don't give up.
Q: Is it easy to find a good position for internship in US? What did you do to apply for OPT?
A: Not easy actually. What I did was not cut off the connection with the enterprise I aimed. I also sought help in Career Center. They offered me great help in CV and interview.
I finally got the chance to work in Montage Deer Valley. Yu Huan, BHI alumna, helped me a lot with it and I personally tried many times to communicate with them. Every time when I was on a career fair, I would go up and say hi to HR from Montage Deer Valley, which might leave them a good impression. They found my improvement in speaking English and gave me the chance. After a year's experience here, I would apply for a postgraduate program to improve myself.
Colorful life: Get along with surroundings and embrace the changes.
Q: What do you do in leisure time? How's the environment there?
A: There are lots of communities and associations in NAU. Apply for joining if you are interested in it. I attended the cultural party for several times. Also, I travelled to different cities during the holiday. For getting further and convenience, I might take the driving license test this year. The environment here is wonderful. It's cool in summer and not so cold in winter. The snow could be heavy sometimes, making Flagstaff a good place to ski. The city is quiet, safe and friendly. It's a very nice place to live your life and study.
Q: How do you feel after spending two years in NAU?
A: You have to get along with local people, because they are the nearest people you can reach when you meet troubles there. The help they offer you is the most sufficient.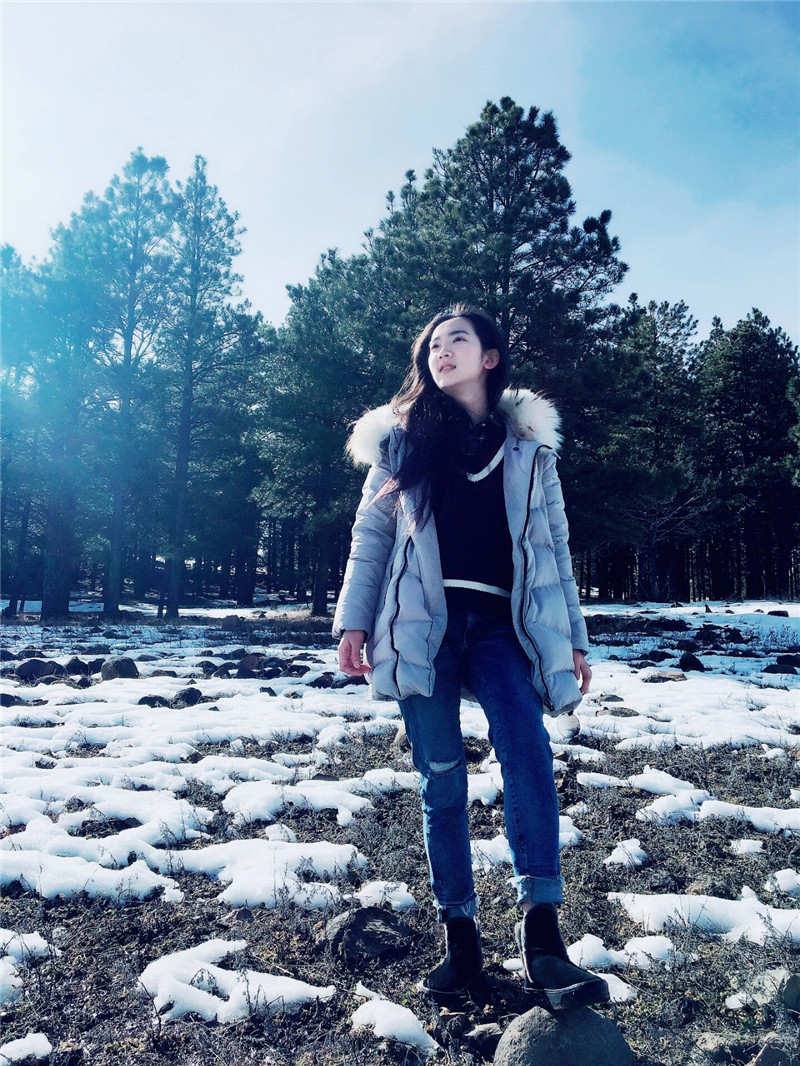 Wang in Holiday Trip
I want tell all the fellow students in BHI:
Two years could be a flash. If you really want to study abroad, make sure to study hard. Contact us if you need. Just like the days I just arrived US, Yu Huan was the one offered me help. I took this job later to help with other students from BHI and I always look forward to see more of you coming. Wish you get what you want from this journey and live a sparkling life here.
By Feng He, Quan Wei, International Exchange Center
Wang Xinrui, Class of 2019
Edited by Meng Huanyu, News Center