The Second Session of 5H Teacher Certification Training of BHI is Completed
The second session of 5H Teacher Certification Training of BHI

On August 30th, the second session of 5H Teacher Certification Training of BHI, which lasted for a whole week, was successfully completed and a closing ceremony was held. Zhang Huailin, Secretary of CCP and Vice President of BHI, Yu Shichun, Director of Student Affairs Department, Guo Ruihuan, Director of Career Development Department, Xu Longyang, Vice Dean of Academic Affairs Department and other related personnel attended the ceremony.
During the 5 days of intense training, all the teacher trainees impressed the trainers with their laugh and sweat, their struggling image in the teaching practice of the practical course, and their meticulous theoretical teaching demonstration on the podium. The group assignments reflected heir unified belief while the 5H growth dairy witnessed their tremendous improvement from cocoon to a butterfly: from teaching to learning, all the teacher trainees completed the learning tasks with high quality. On the closing ceremony, the Vice President of BHI, Zhang Huailin, personally issued the certificate to the trainees.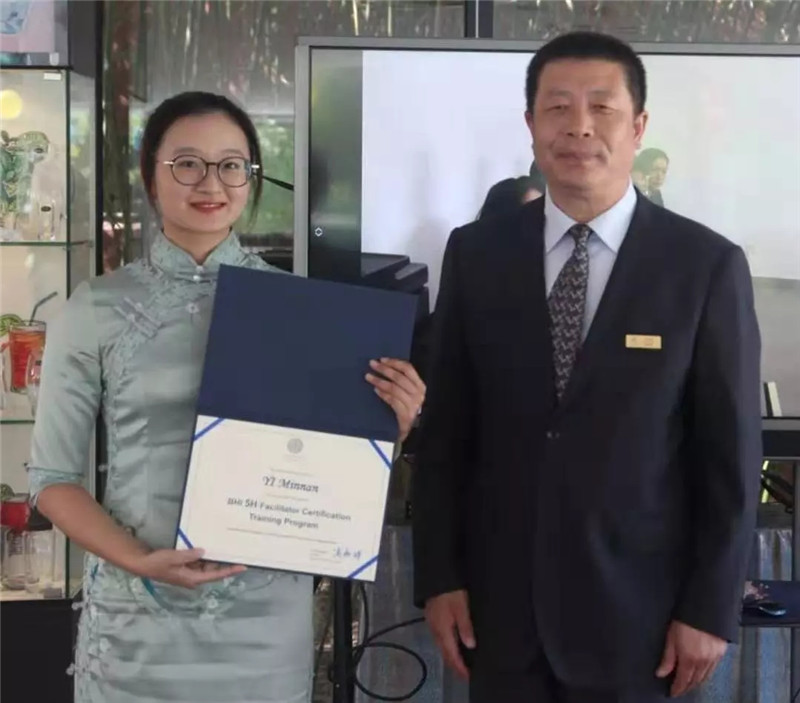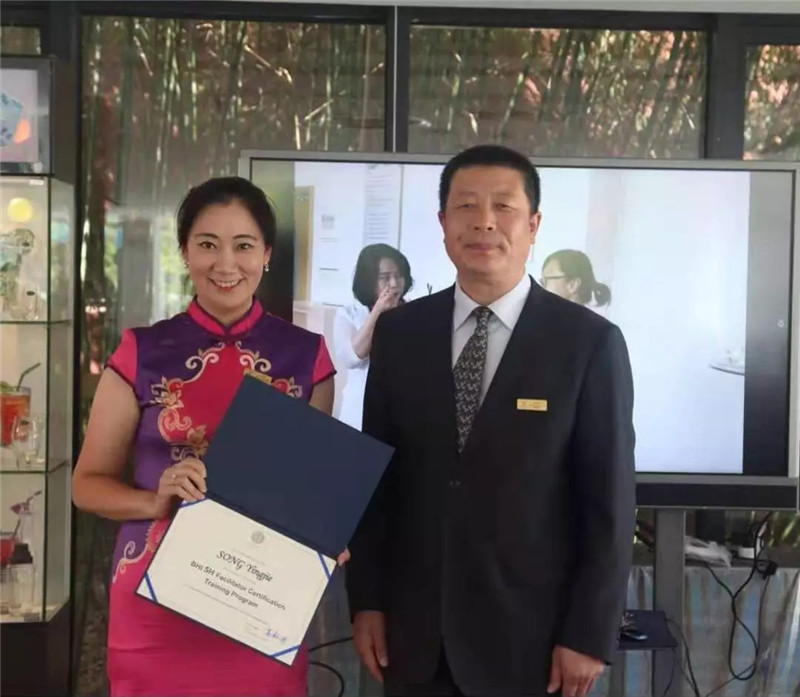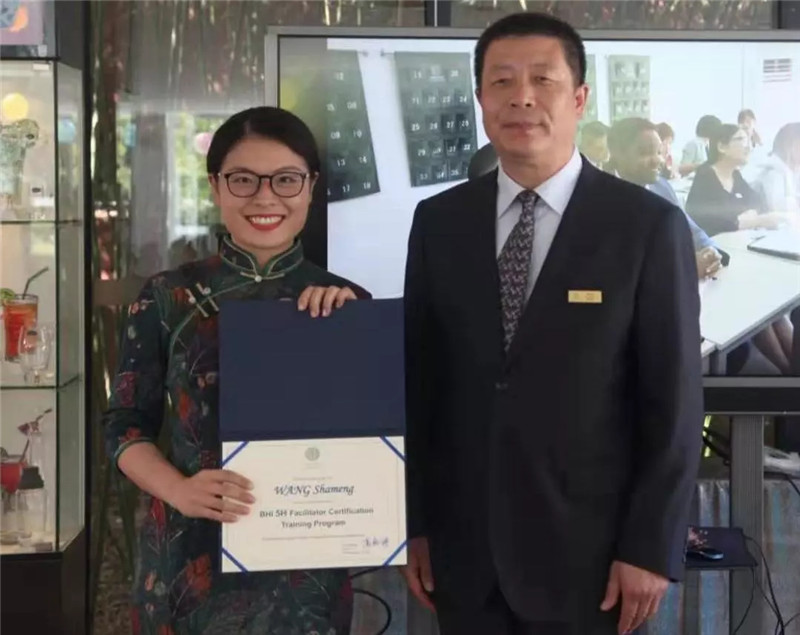 Zhang Huailin, Vice President of BHI, took photos with some of the trainees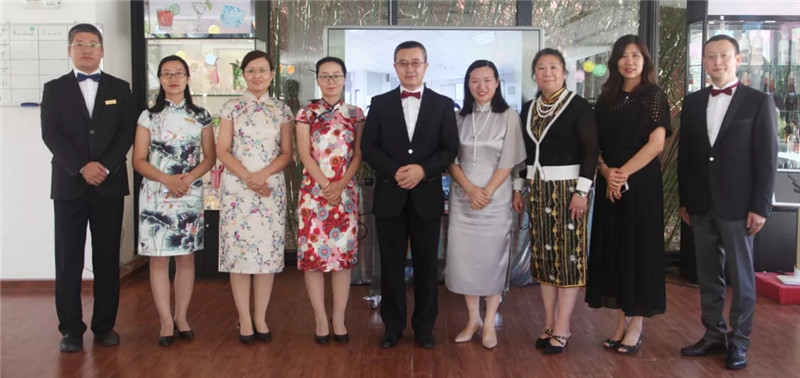 Some of the school leaders came to congratulate the teacher trainees for their completion of the second session of 5 H teacher certification training (from left to right: Xu Longyang, Vice Dean of Academic Affairs Department; Tai Aike, Secretary of Communist Youth League; Bai Zhijing, Director of Administration Office; Wang Xiaowei, Director of Human Resources Department; Yu Shichun, Director of Student Affairs Department; Zeng Liting, Dean Assistant of Academic Affairs Department; Guo Ruihuan, Director of Career Development Department; Wei Chunyan, Director of Internship and Career Development Centre; YuWeiMin, Dean Assistant of Academic Affairs Department)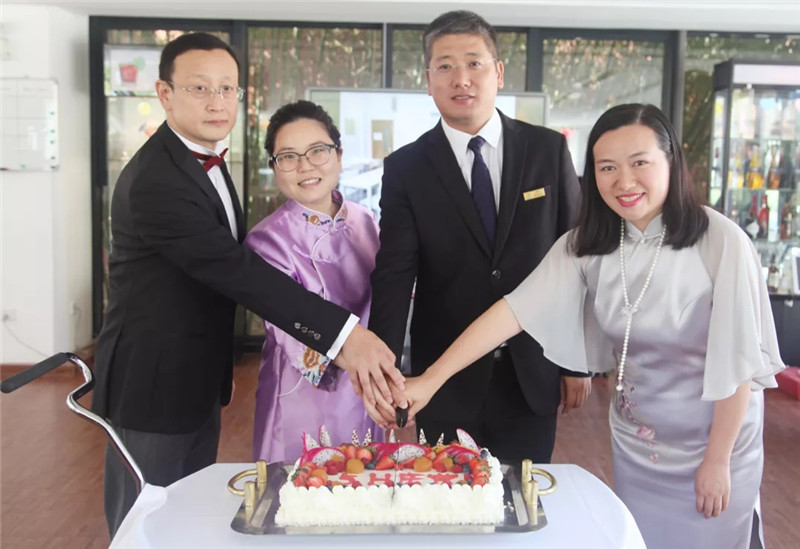 Teachers cut a cake together to celebrate the successful completion of 5H training (from left to right: Yu Weimin, Dean Assistant of Academic Affairs Department; Mao Tian, teacher of Foreign Language Office; Xu Longyang, Vice Dean of Academic Affairs Department; Zeng Liting, Dean Assistant of Academic Affairs Department)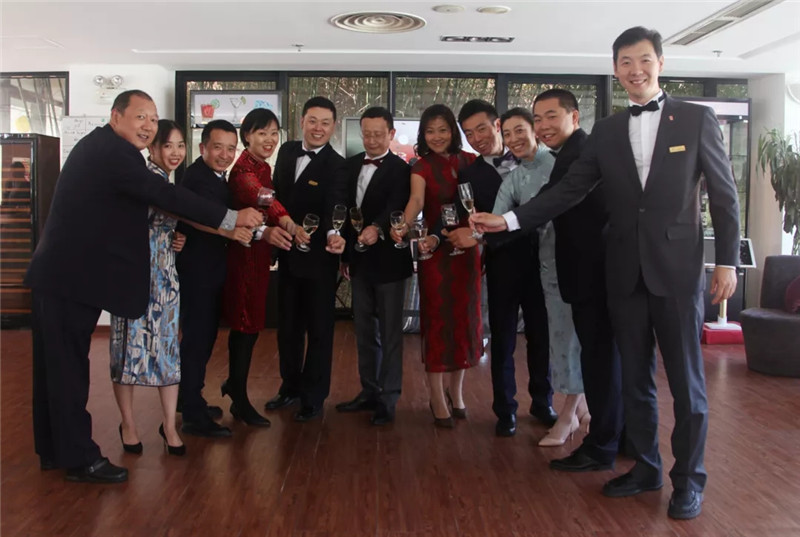 Trainees celebrated their graduation at the ceremony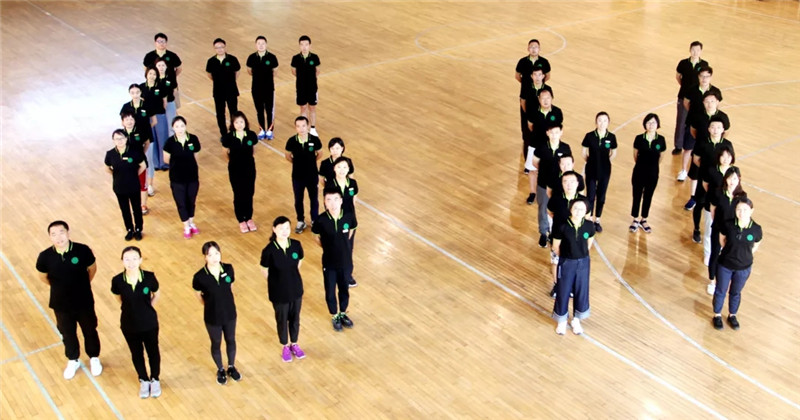 Trainees stood in the shape of "5H"to take a picture
The following are some of the teacher trainees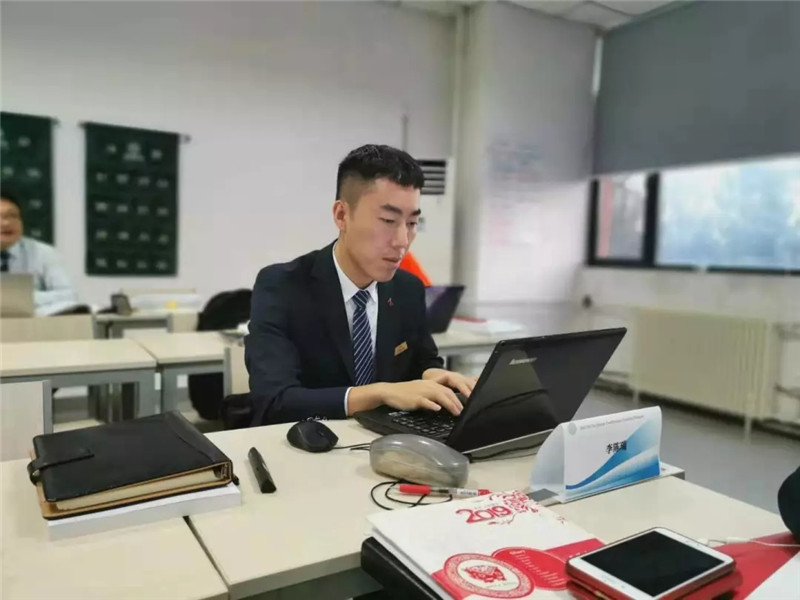 Li Chenrui, teacher trainee from Foreign Language Office
Master of Japanese Translation
Graduated from Beijing International Studies University
3 years' Japanese teaching experience
"The five-day study opened a new chapter in my teaching career and greatly improved my teaching skills. During the 5-day training, I could not forget my trainer Cui Chao's humorous teaching style, the tension of the first practical training lesson, and the hard work and sweat of our team members who worked hard until 12 o 'clock to complete the training task. In the new semester, I will devote myself to teaching with more enthusiasm and try to be a favorite teacher of students."
Sang Jian, teacher trainee from Food Production Office
Master of Food Science
13 years of management experience in catering industry and catering vocational education
4 years' college teaching experience
"BHI's 5H cultivation strategy of Hand, Head, Heart, Happiness and Health has inspired me to rediscover the essence of college education. A series of courses conducted around the 5H theory have helped me to change my teaching philosophy and reorganize the key teaching sections such as teaching design, teaching organization and teaching evaluation. I have benefited a lot from various training forms such as classroom debate, after-class exercises, group discussions, trial lectures and comments, and real classroom experience."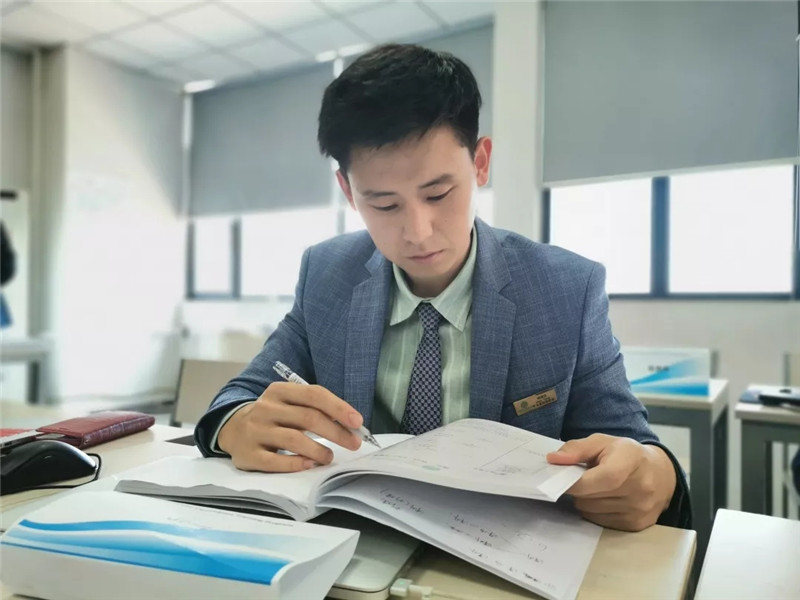 Yang Zhiqi, teacher trainee from Basic Courses Office
Master of Geriatric Service Management,
Graduated from University of Southern California
"As a new teacher in BHI, 5H training has swept many blind spots in teaching design and filled me with more confidence in my future teaching career!"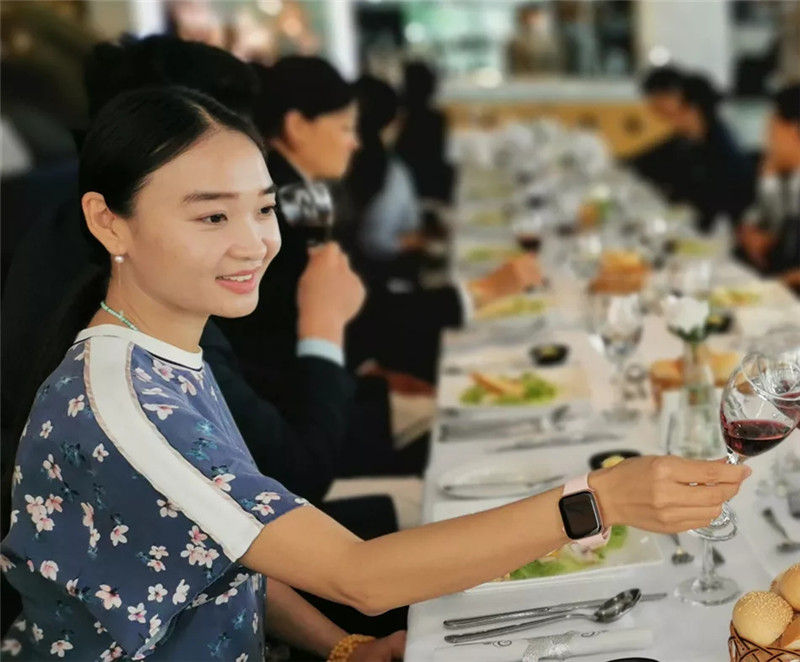 Liu Qianzhe, teacher trainee form Health and Recreation Office
Master of Leisure Study
RYT500 hours registered teacher of American Yoga Alliance
Special yoga instructor invited by China Minsheng Bank
Authorized trainer of Asia-Pacific Yoga Alliance China
"This training made me understand that to be a good and qualified teacher that students like requires accumulation, which needs reflection, exploration and practice in a continuous procedure of learning and teaching. We should constantly enrich our knowledge, improve our teaching methods, try to cultivate students' creativity, and truly adhere to the 5H concept to become a qualified teacher loved by students and approved by the hotel industry."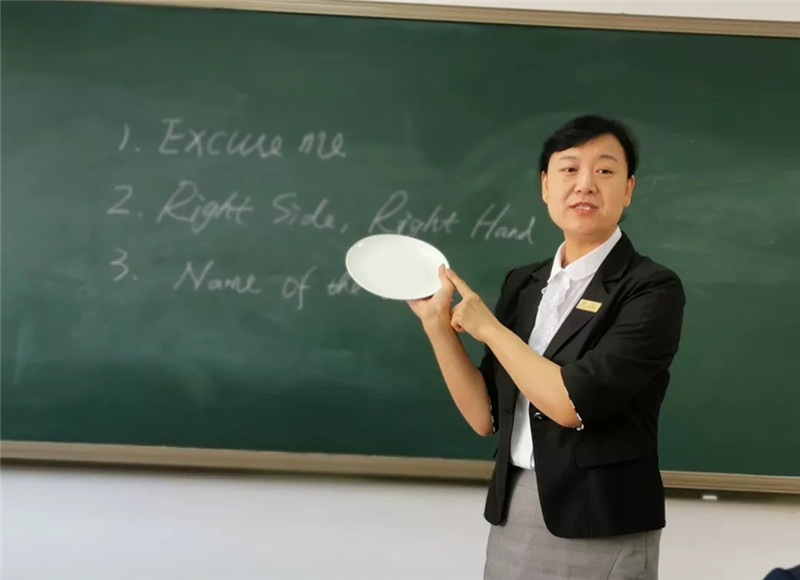 Chen Fei, Office Director of Academic Affairs Department
Master of English
"The five-day training offered me a chance to be a student again and to reevaluate my work from the perspective of a student. 5H training is a deep learning process for me. I give my sincere thanks to our excellent training team for making me understand and love my work more in the learning process. To guide students to reflect and keep learning in practice, and to establish a good relationship with students will be my future direction."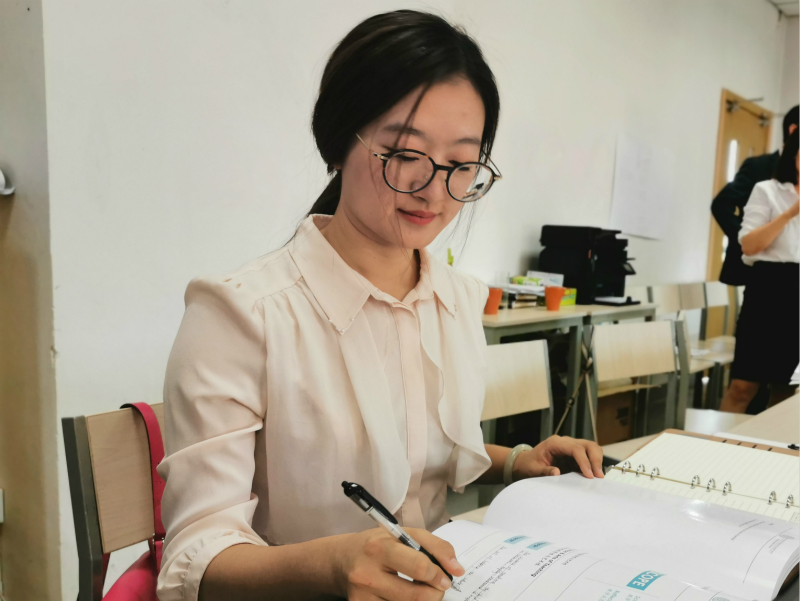 Yi Min-nan, teacher trainee from Finance and Investment Office
Doctor of Accounting
Graduated from Dongbei University of Finance and Economics
"In this 5-day learning, we needed "Hand" to complete the practical teaching training, and "Head" to complete the theoretical teaching training. There were not only knowledge about teaching taught by the trainers with "Heart", but also the homework for us to struggle till dawn, as well as the nutrient and delicious food provided by our colleagues in the teaching hotel to ensure our "Health". All of us have gained "Happiness" and professional teaching skills from the training."
5H Teacher Certification Training is a unique teacher training course of BHI, which quickly enables young teachers to better understand the concept of hotel practical courses, master the cutting-edge teaching theories, teaching methods and teaching skills, and enhance their teaching and class management abilities, in order to further strengthen the construction of a team of high-level teachers in BHI.
Photo : Mao Tian, Academic Affairs Department
Text: Project team of 5H Teacher Certificate Training; Gao Yan, News Center
Layout: Gao Yan, News Center
Editor: Gao Yan, News Center
Translation: Zhang Weicai, Foreign Language Department